Mearns Castle High School award Crocodile Rock writer LGBTQ+ Champions Award
Mon 17th February 2020
Andy McGregor has been awarded a Mearns Castle High School LGBTQ+ Champions Award for his musical play Crocodile Rock, one of the sextet of A Play, a Pie and a Pint productions broadcast by BBC Scotland last Autumn.
The monthly award series – recently started by Mearns Castle High School's Pride LGBTQ+ and Allies group in the south of Glasgow – recognises individuals and organisations who support the LGBTQ+ community by shining a light on a particular area of LGBTQ+ rights.
Set in Millport in the late 90s, Crocodile Rock is a one-man musical about coming of age, coming out and discovering who you really are. Steven McPhail (a 'tour-de-force' by Darren Brownlie) is a bored teenager whose life changes when a chance encounter with a drag queen shows him a world he never knew existed.

We want to award you this as part of heart-felt thanks for the amazing work that you have put together as part of the recent BBC – Play, Pie and Pint series, in your musical play about a teenager coming out in the remote community of Millport, Crocodile Rock.

We feel that Crocodile Rock is such a powerful theatre piece that Mr Sorley, our Equalities co-ordinator, drew our attention to after showing it to us in a special screening for our LGBTQI+ and Allies group. We laughed and cried and all left school that day feeling empowered by what you have written and know that whilst there are so many wonderful people out there doing similar work, Crocodile Rock will have a very special place in our hearts especially when we live in a suburban area in the south of Glasgow, it has continued to open our minds that identifying as LGBTQI+ in smaller remote communities can be even more difficult.


Pride LGBTQ+ and Allies group
Mearns Castle High School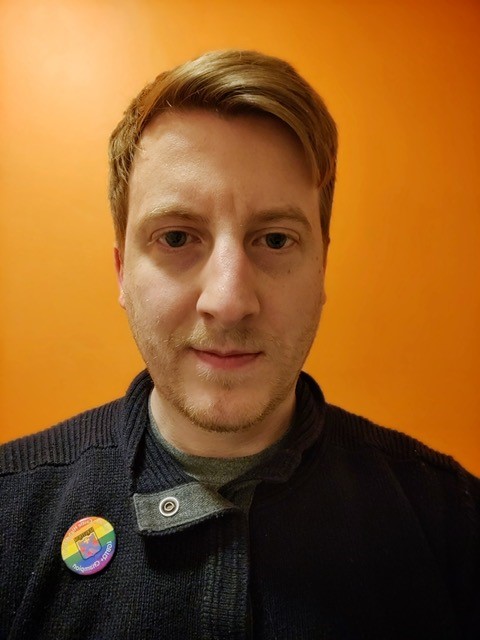 Absolutely delighted to have been awarded a LGBTQ+ Champions Award from Mearns Castle secondary school. I'm so glad to hear it touched those from the group who watched it and I hope encourages one and all to be who they are regardless of what others say and think.

Andy McGregor, writer & director 'Crocodile Rock'
If you missed it first time round, Crocodile Rock will be repeated on BBC Scotland later this month.
Andy McGregor's latest play 1 + 1 MAKES 3 premieres at A Play, a Pie and a Pint on Monday 25th May.