A Play, A Pie and A Pint is back! Autumn Season Announced
Fri 20th August 2021
After the break that nobody wanted, A Play, a Pie and a Pint is absolutely thrilled to welcome audiences back to Òran Mór for a full season of 12 dazzling productions. We will be throwing our doors open for plays, pies, and those much-needed pints from September 6th – and tickets are on sale now!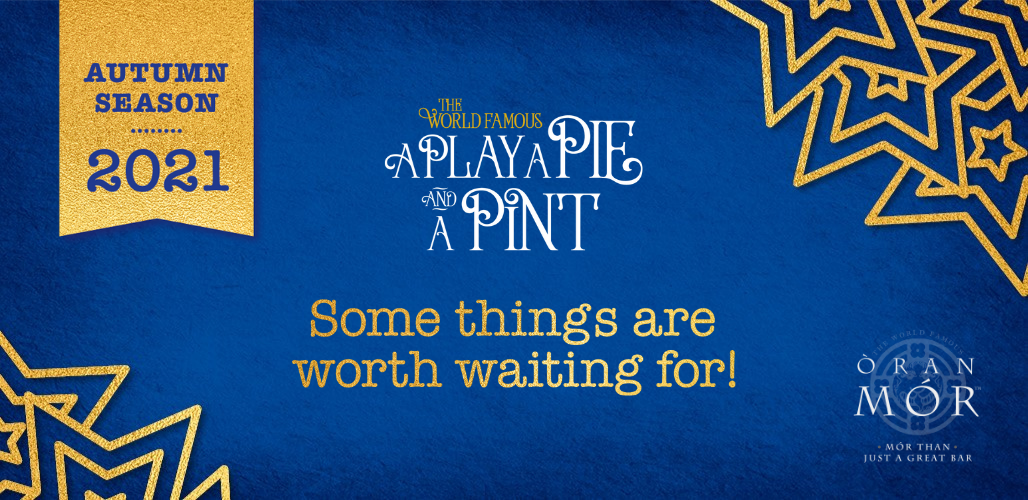 Honouring the season-that-never-was, we are delighted to be staging 10 brilliant, never-before-seen plays from emerging and established writers, which have been waiting in the wings since 2020. Alongside this, we're throwing in a couple of particularly timely additions, including Marty Ross' The Tale of Typhoid Mary – a theatrical tale of a legendary, symptomless super-spreader(!) – and Johnny McKnight's Joke, a razor-sharp take on social power and cancel culture in our first ever collaboration with the Citizens Theatre.
Our return season kicks off with Morna Pearson's dark comedy Celestial Body, and keeps the Euro's excitement alive with Lorna Martin's Rose, the fascinating and true story of the world's greatest female football player. Kim Millar's Mr Moonlight, a mini-musical, imagines what spurred Frankie Vaughan's visit to Easterhouse in 1968, whilst Jane Livingstone explores what brought together two brilliant minds in the 1830s in Mary & Ada Set the World to Rights. Mini-musical joy abounds in Andy McGregor's A New Life, a new piece from the writer of Spuds and Crocodile Rock that features a tap-dancing baby(…!), whilst PPP favourite Dave Anderson asks us to join him at the bar for Opening Time, and Brian O'Sullivan tells a musical tale of addiction in My Name Is Sarah, and…
Elsewhere in the programme, Owen Whitelaw's The Storm examines the creeping impact of fake news, and there's been a murder at Sugar Plum Theme Park in Conor O'Loughlin's Exquisite Corpse. Finally, from the hit writer of the critically-acclaimed Aye, Elvis comes Morna Young's hilarious The Silver Superheroes, which shines a spotlight on the lives of Scotland's greatest superheroes – after they've retired!
Please visit our What's On page for full programme details.