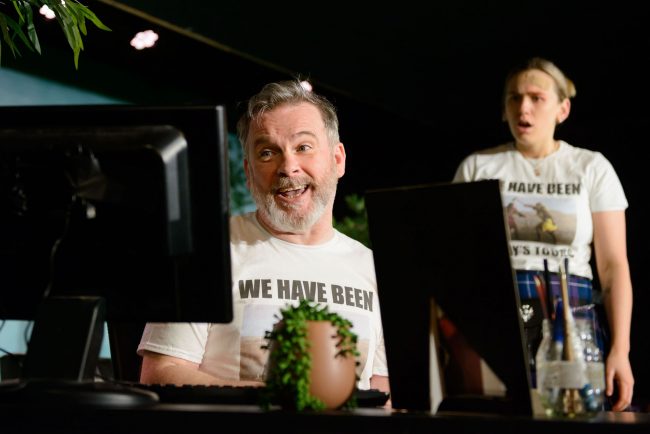 Attending a show
Where do I go on the day?
Enter Oran Mor and at the end of the main bar there will be someone to scan your tickets. They will hand you a food and drinks token to redeem. You will then head downstairs into the basement venue where the performance will take place as well as a bar and food station.
How long does the performance last?
Doors open at 12pm (12.30pm on Mondays) and you can get your food and drink before the show starts. The play will start at 1pm and should last no longer than an hour but please allow extra time in case there is a late start or any unexpected issues.
Is it reserved seating?
No. Seating is on a first-come first-served basis.
Is the venue wheelchair accessible?
Yes. You can enter Oran Mor from its piano bar Fonn Mor to use the lift. Please email boxoffice@oran-mor.co.uk in advance if you would like further information or assistance.
What happens if I arrive late?
We will accept latecomers up to 10 minutes after the show starts. You will be able to get your food and drink after the show.
What happens if I can no longer make a show?
Our tickets are non-refundable but depending on availability we may be able to swap you into a different date. Please speak to Box Office on 0141 357 6200 or email boxoffice@oran-mor.co.uk.
---
Food and Drink
Do you offer a vegetarian/vegan alternative?
Yes. As well as our scotch pie, we offer a vegan sausage roll. We recommend to book this option in advance so we can provide enough on the day.
Do you offer other drinks other than a pint?
Yes. You can also have a glass of wine (125ml) or any soft drink available. For £1.50 extra at the bar, you can upgrade your drink to a Guinness or a spirit + mixer.
Do you cater for dietary requirements?
We always try our best to accommodate dietary requirements so everyone can enjoy the same experience. When you have booked tickets, please email info@playpiepint.com with your requests and we will get back to you.
---
About the Plays
What plays are on?
Please go to our What's On page which has all the information about our upcoming productions.
Do you perform all year round?
We put on approximately 32 new plays a year plus Oran Mor's Summer and Christmas pantomimes. The dates can vary slightly but our Spring season usually runs from February to July and our Autumn season is from September to December.
Are the plays suitable for children?
Due to the venue's license, the minimum age is 14+ to attend but please be aware that many of our plays contain swearing and themes that may not be appropriate for younger audiences.
Can I see A Play, A Pie and A Pint anywhere else?
We co-present regularly with other venues in Scotland including Traverse Theatre in Edinburgh and The Lemon Tree in Aberdeen. All of our plays on the website will state if they are performing elsewhere and the relevant dates.
---
Tickets
Can I just turn up on the day?
Whilst we usually have a number of tickets available at the door, we cannot guarantee this and do recommend you book in advance to avoid disappointment.
What are the prices?
Prices range from £12.50 – £17.50 depending on the date of performance and whether you are a student or not. Pleases see our Ticket Information page for full details.
Do you offer group bookings?
Depending on the size of the group and organisation, we may be able to offer discounted tickets. Please email info@playpiepint.com to enquire further.
Do you offer season tickets?
Yes. We do both full season tickets (for either our Spring or Autumn season) or mini season tickets that give you up to 21% off when you book for 4 shows or more. You do not need to choose the shows at the time of purchase. These can be purchased through Box Office.
Can I buy gift vouchers?
Yes. Gift vouchers for A Play, A Pie and A Pint are available to buy all year round. Please contact Box Office on 0141 357 6200 or boxoffice@oran-mor.co.uk if you wish to purchase any.
Are gift vouchers or season tickets valid for other venues?
No. These are valid for our shows at Oran Mor only.
For further details on how to book and prices, please see our Ticket Information page.