COVID-19 UPDATE:
A PLAY, A PIE AND A PINT PERFORMANCES POSTPONED
We regret to inform you that all performances of A Play, A Pie and A Pint have been postponed for the foreseeable future, with immediate effect.
Please view our latest updates and ticket info here.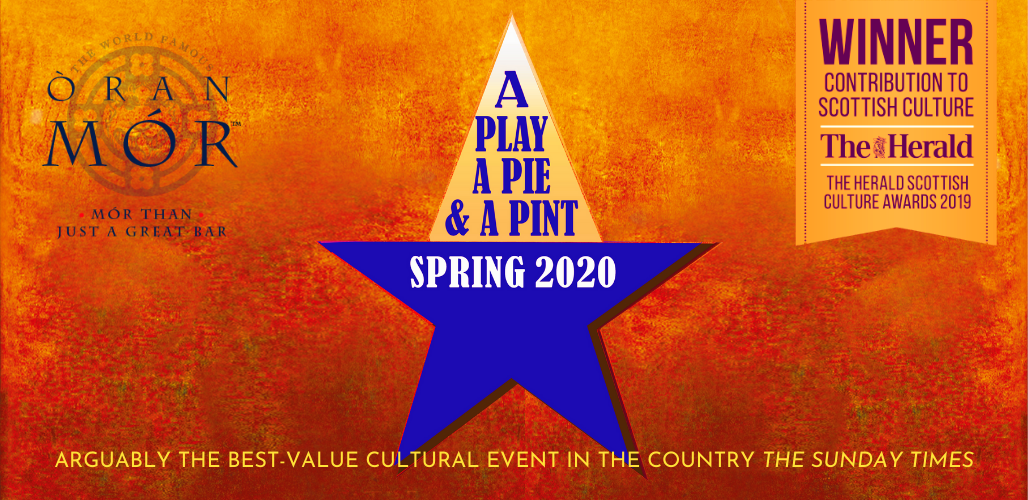 Opening Monday 10th February, A Play, A Pie and A Pint ushers in the new decade with 20 new plays in its Spring season 2020.
Serving up a dazzling array of comedy, drama, music and more, the Spring season will take you trekking through the Spanish Pyrenees, twirling around a ballroom, smuggling corpses in a theme park and soaring with sexagenarian super heroes, as well as exploring current issues such as fake news and animal rights activism.
The Spring season will uncover the stories of real life people, such as Scottish footballer, Rose Reilly MBE, Frankie Vaughan's visit to Easterhouse in the 1960s and the unlikely friendship between daughter of Lord Byron, Ada Lovelace and Fife-born Mary Somerville in the 1830s.
Plus a special revival of The Beaches of St Valery by Stuart Hepburn will mark 80 years since the Battle of Dunkirk.
The plays will be served up for your entertainment from Monday 10th February, with a pie and a pint included of course!