Mini Musicals 2017 Season Announced!
Thu 20th April 2017
Mini Musicals Season at A Play, A Pie and A Pint – 29th May – 1st July 2017
A Play, A Pie and A Pint is delighted to return this year with another season of Mini Musicals.
This year we bring you another superb summertime treat –
4 SPARKLING NEW MUSICALS AND A STUNNING OPERA.
Star crossed lovers hope for a happy ending in Dave Anderson's 'I Love You in Danish', while a sassy Scottish lassie gives the writers of 'Brigadoon' an unexpected lesson in Scottish history.. (Brigadoom).
Love does not, alas, conquer all as our heroine discovers on the remote Scottish isle of Munst (Wee Free! The Musical) while Spuds nods to Breaking Bad as a freak occurance results in hero MacGonigle building the ultimate criminal empire.
Our grand finale is Tosca: a trio of international opera stars perform the thrilling music from Puccini's well loved opera, while a Henchman steps out of the shadows to tell a deadly tale of lust and murder.
Our musical season sold out super fast last year – so book now!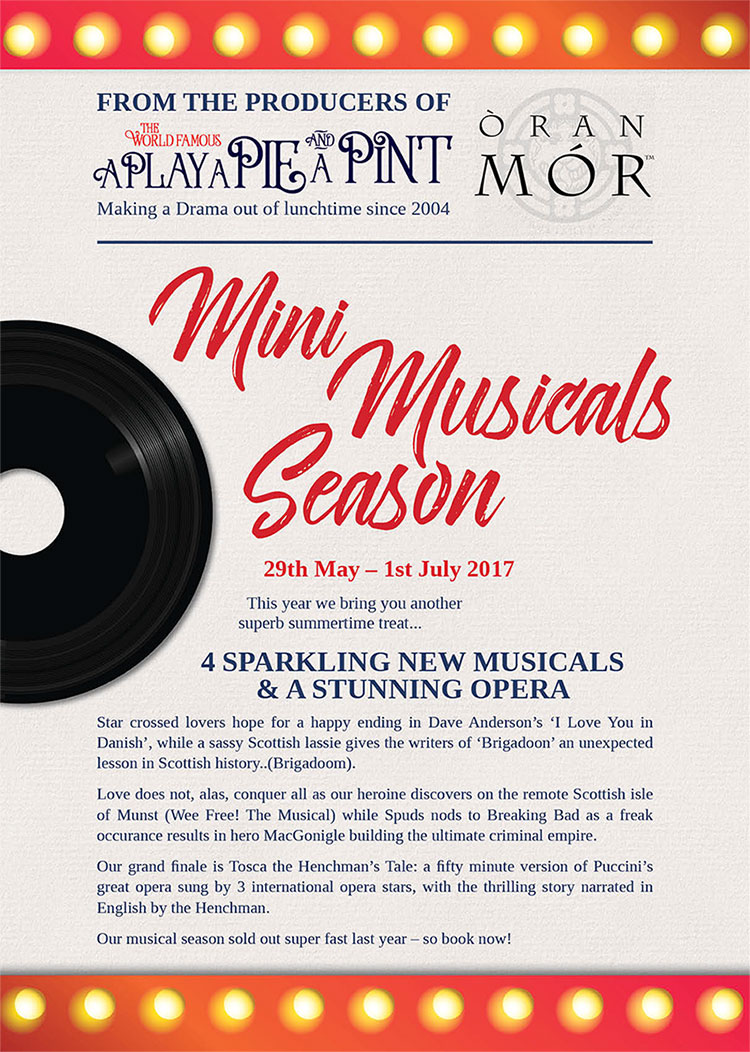 29th May – 3rd June
I Love You, In Danish (Jeg Elsker Dig)
By Dave Anderson
The world sometimes seems like a fairground: loud, colourful and confusing.
Boy meets girl, girl meets boy in this perplexing world. He's a footballer, she's a brain-box. Across the sea, there's a dangerous idiot being listened to.
It feels as if the ground they stand on is shifting. Will they fall in love? What do you think? Music all the way with Dave Anderson's new show.
5th – 10th June
Brigadoom
By Tony Cox
Alan Jay Lerner and Frederick 'Fritz' Loewe – neither of whom has ever been to Scotland – have just put the finishing touches to their musical 'Brigadoon'.
Now they are holding auditions for the leading role of Fiona and find out from one of the young hopefuls that there are some glaring historical errors in the script. This leads to a clash, a brief love affair and a rousing sing-song finale.
And some very nice tunes along the way.
12th – 17th June
WEE FREE! The Musical
By Brooks & King
1984. Morna escapes the city to teach music on the remote Isle of Munst. When she accidentally marries a pillar of the community, she finds herself at odds with the quirks of The Kirk and the strange ways of the locals. Can a New Romantic survive on an island ruled by The Old Testament?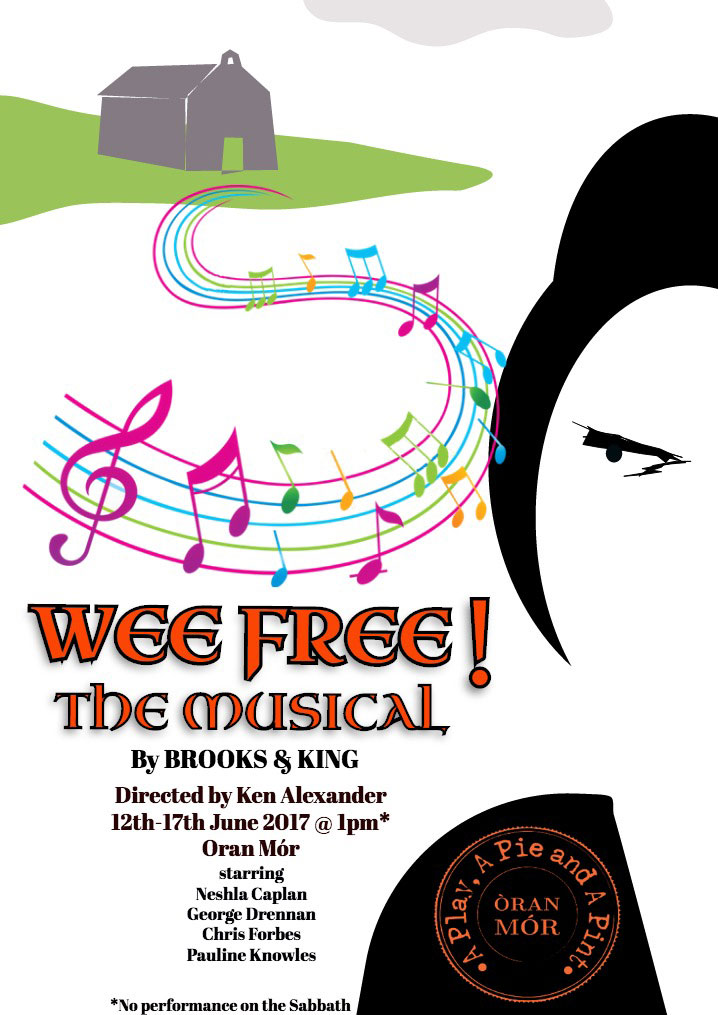 19th – 24th June
Spuds
By Andy McGregor
When David MacGonigle's wife dies, his perfect middle-class life collapses around him. But a freak occurrence, involving mouldy chips and Iron Brew, leads to his discovery of a new designer drug, Spuds. Soon he has built the ultimate criminal empire, but at what cost? A new musical comedy about grief, greed and grease.
26th June – 1st July
TOSCA : The Henchman's Tale
Music by Giacomo Puccini | Script by Alexander Tarbet
It's opera, Giacomo, but not as we know it. All the way from the Met, Covent Garden and Milan to Oran Mor, a trio of international opera stars will perform the most thrilling music from Puccini's most well-loved opera. Meanwhile, the Henchman steps out of the shadows to give us his fly-on-the-wall take on this tale of a deadly spiral of true love, sadistic lust and murder. All the dirty work for Rome's top secret policeman, an arrogant demagogue and sexual predator, is carried out by the Henchman…so he knows where all the bodies are hidden and who has the negatives.
Alexander Tarbet, author of international best-selling Amsterdam based detective novel, 'Mokum', has lived and worked in London, Amsterdam, and San Francisco.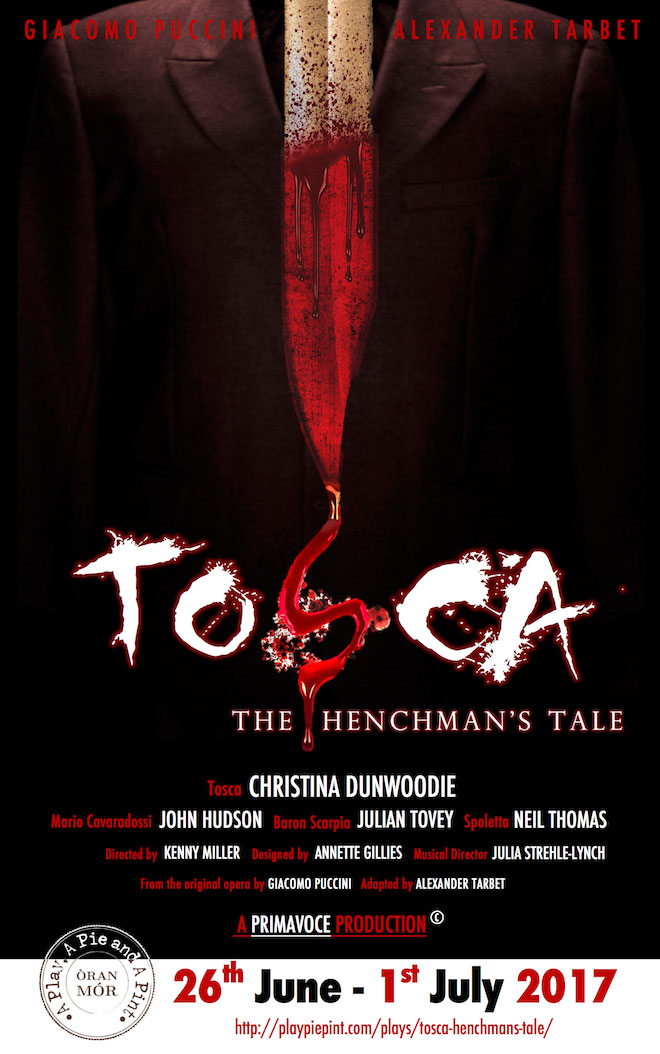 Ticket Information:
Tickets can be purchased through www.ticketweb.co.uk, 08444 771 000 (booking fee will apply) or from the Òran Mór box office on the day of the performance. The box office is located just inside the main front entrance on Byres Road and opens at 12noon (Monday at 12.30pm.) Tickets are sold on a first come, first served basis.
Monday/Tuesday/Thursday/Friday £12.50, Wednesday £10, Saturday £14
Ticket price includes a drink (beer, wine, soft drink) plus a meat pie or vegetarian quiche.