Mini Musicals 2018 Announced!
Mon 30th April 2018
Back by popular demand, A Play, a Pie and a Pint are delighted to present another season of brand new Mini Musicals!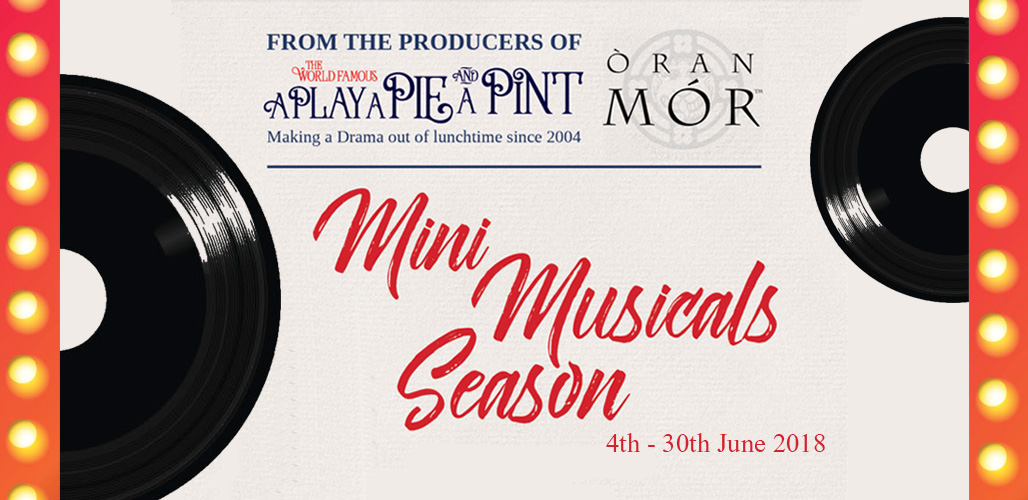 This year's thrilling line up will have you shimmying to the hot Latin beat of Carmen, chilling out in the cool of a remote Scottish Island, taking the temperature as clouds gather in ancient Greece and feeling the fear of First Lady Melania as she faces the Oval Office ghosts.
Will a philosophy school for wastrels change the ways of a gambling-obsessed youth? Is there life after mobile phones? Is Carmen willing to die for love? Will a Matador turn up in Cranhill? Can we squeeze a four act opera into fifty minutes? And find out the answer to the question on everyone's lips: can Melania sing?!?
Following another hugely popular run in 2017, the third season of mini musicals is set to be packed. Don't miss out on the hottest ticket in town!
Jun 4th – 9th
by Brian James O'Sullivan
A son with a gambling problem.
A father with mounting debt.
A philosophy school for wastrels.
Oh aye, and we're in ancient Greece!
Inspired by Aristophanes' The Clouds, this new musical follows Strepsiades and Pheidippides as they attempt to clear their debts. With a little help from Socrates and his beloved Clouds, Pheidippides learns to argue his way out of anything! Will this elevate him to the high life or bring his world crashing down?
Jun 11th – 16th
by Brooks & King
It's a long way from the Eastern Bloc to the East Wing – and for one former glamour model turned FLOTUS it hasn't been a happy journey.  Can the ghosts of Eleanor Roosevelt and Jackie Kennedy lift our heroine's spirits and show her what it really means to be First Lady? A brand new musical comedy from the creators of Wee Free! The Musical.
Jun 18th – 23rd
EDGE OF THE WORLD – A DIGITAL DETOX MUSICAL
by Richard Ferguson
Are you one of the 61% of people who confess to being addicted to their machines? Or the 67% of people who check their phones even when they're not vibrating?
There is one detox retreat out there guaranteed to cure you of your digital addiction – but at what cost?
Jun 25th – 30th
by Benny Young
with musical re-arrangements by Jon Beales
directed by Liz Carruthers
Glasgow. Mid 1950s.
The story of Carmen McGurn, a tobacco factory worker.  She meets two men late at night on her way home from a bender –  a young idealistic policeman from the Islands and a Glasgow matador. Who will she choose and who will destroy her?
Tickets for all shows can be purchased online from TicketWeb, by telephone on 08444 771 000 or from the Òran Mór box office on the day of the performance.