Rab Hood & The Sheriff Of Shettleston
by Morag Fullarton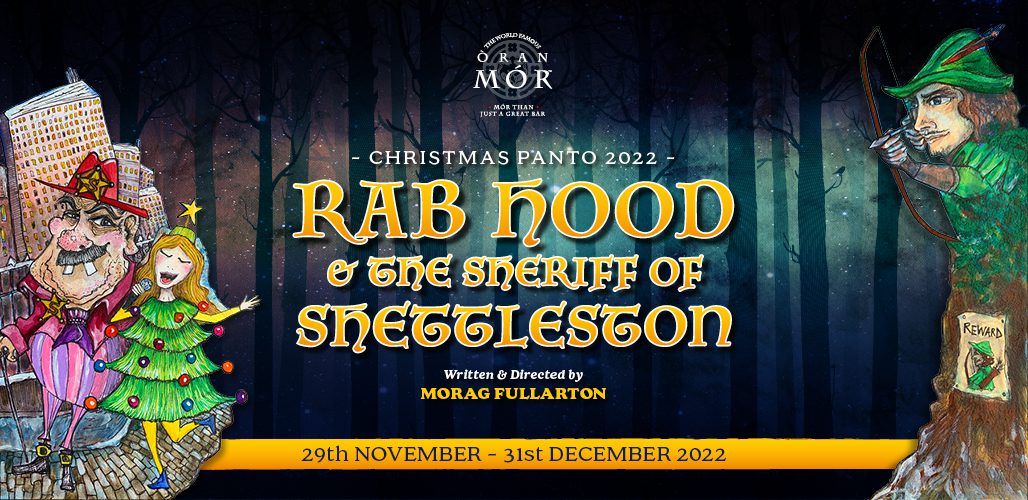 Cast: George Drennan, Hannah Howie, John Kielty, Clare Waugh and Craig Mclean
Directed by Morag Fullarton
Musical Director: John Kielty
Choreographer: Lisa Mathieson
Designer: Kenny Miller
Evil Sir Percy 'no mercy' Sheriff of Shettleston is out to fleece the good folks of Glasgow. Meanwhile arch enemy Rab Hood (allegedly hiding out in the leafy west end) is out to foil his dastardly schemes – stealing back the ill gotten gains, giving it laldy through the glens, and redistributing to the tyrannized townsfolk.
When beautiful songstress Maid Marion appears on the scene both men are instantly smitten: the Sheriff plans to install her as Mistress of Chateau Shettleston while Rab can only offer a treehouse… who will win her heart? Or her mind? Or maybe she has other plans? And will Rab's formidable maw, Dame Beanie McHood survive the slings and arrows of the Men in Tights?
To find out don't miss this year's Òran Mór Christmas Panto written by panto supremo Morag Fullarton
For an hour of sublime, seasonal silliness, pantomonium, sassy songs and badass buffoonery then BOOK NOW before it's sellt oot!
Tickets
Tickets are available to purchase in person or over the phone on 0141 357 6211 from the Òran Mór Box Office, or online via TicketWeb (booking fees apply).
Performance Dates
Performances | 29th Nov - 31st Dec | Mondays - Saturdays
Date (Nov – Dec 2021)|Doors Open|Show Time|Ticket Price
Tue 29th Nov|12.30pm|1pm|£20
Wed 30th Nov|12.30pm|1pm|£20
Thu 1st Dec|11am / 1:30pm|12pm / 2pm|£20
Fri 2nd Dec|11am / 1:30pm|12pm / 2pm|£20
Sat 3rd Dec|11am / 1:30pm|12pm / 2pm|£20
Mon 5th Dec|11am / 1:30pm|12pm / 2pm|£20
Tue 6th Dec|11am / 1:30pm|12pm / 2pm|£20
Wed 7th Dec|11am / 1:30pm|12pm / 2pm|£20
Thu 8th Dec|11am / 1:30pm|12pm / 2pm|£20
Fri 9th Dec|11am / 1:30pm|12pm / 2pm|£20
Sat 10th Dec|11am / 1:30pm|12pm / 2pm|£20
Mon 13th Dec|11am / 1:30pm|12pm / 2pm|£20
Tue 13th Dec|11am / 1:30pm|12pm / 2pm|£20
Wed 14th Dec|11am / 1:30pm|12pm / 2pm|£20
Thu 15th Dec|11am / 1:30pm|12pm / 2pm|£20
Fri 16th Dec|11am / 1:30pm|12pm / 2pm|£20
Sat 17th Dec|11am / 1:30pm|12pm / 2pm|£20
Mon 19th Dec|11am / 1:30pm|12pm / 2pm|£20
Tue 20th Dec|11am / 1:30pm|12pm / 2pm|£20
Wed 21st Dec|11am / 1:30pm|12pm / 2pm|£20
Thu 22nd Dec|11am / 1:30pm|12pm / 2pm|£20
Fri 23rd Dec|11am / 1:30pm|12pm / 2pm|£20
Sat 24th Dec|11am|12pm|£20
Mon 26th Dec|11am / 1:30pm|12pm / 2pm|£20
Tue 27th Dec|11am / 1:30pm|12pm / 2pm|£20
Wed 28th Dec|11am / 1:30pm|12pm / 2pm|£20
Thu 29th Dec|11am / 1:30pm|12pm / 2pm|£20
Fri 30th Dec|11am / 1:30pm|12pm / 2pm|£20
Sat 31st Dec|11am|12pm|£20
Please note: Our Panto is aimed at an adult audience and does contain some strong language and adult themes. Recommended for 14+ years