Please note this play ended on Sat, 19 November, 2022.
Directed by Beth Morton | Cast - Bethany Tennick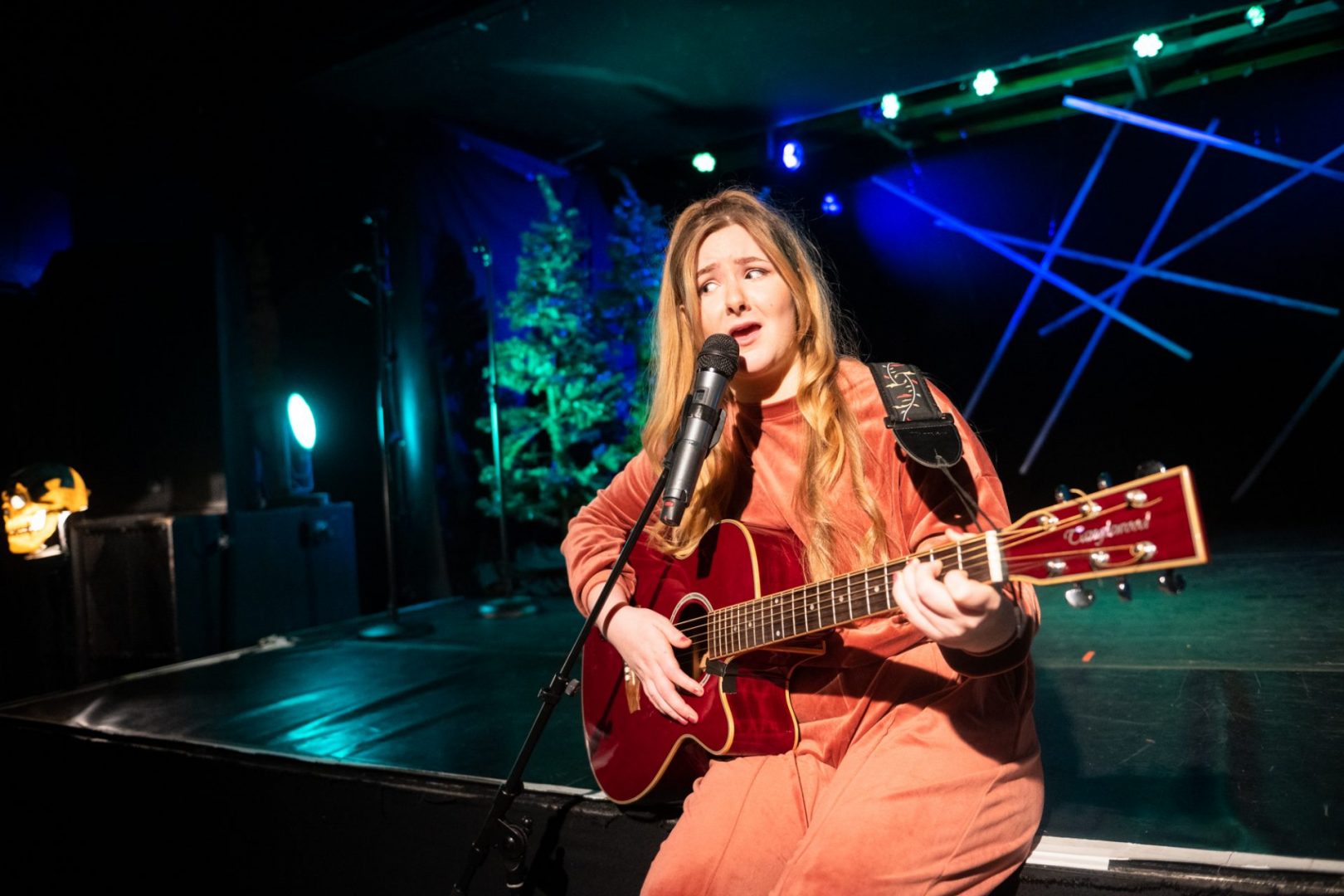 Drawing on Slavic folktales and the indomitable Baba Yaga, BABS is a musical adventure about self-discovery and a hag-turned-hostess.
Young quine Lisa has been dumped by her best mate for a new man, and she's raging.
That's their annual holiday to Ibiza out the window, and it's looking like a Summer alone in Aberdeen for poor Lisa.
That's until Lisa's fortunes change, and she finds herself at a forest sanctuary run by eccentric oracle Babs… but her house on chicken legs isn't quite the destination Lisa expected…
BABS is a new musical adventure starring Bethany Tennick, nominated for Best Performer in a Musical at The Stage Debut Awards in 2018 for the critically acclaimed musical Islander.
Creative Team
Writer Morna Young
Director Beth Morton
Assistant Director Anna Whealing
MORNA YOUNG is an award-winning playwright, named 'Scots Writer of the Year' at the inaugural Scots Language Awards in 2019. Morna's play, Lost at Sea, premiered at Perth Theatre in 2019 before Scotland, and subsequently winning two Critics' Awards for Theatre in Scotland (CATS). Her 2022 productions include The Stamping Ground: A Runrig Musical (Eden Court, Raw Material) and Americana: A Murder Ballad (Pepperdine Scotland). She is currently working with theatres across Scotland including the Lyceum, Traverse and Mull. BABS marks Morna's fourth PPP, following Netting (2015), Aye, Elvis (2018 and 2019 as part of the 'audience choice' season) and The Silver Superheroes (2021).
BETH MORTON is a director, theatre-maker and Mull Theatre Associate Director. Her most recent work includes the critically acclaimed digital season of new plays Strange Rocks & Undocumented and animation series Braw Tales (Mull Theatre), as well as short film Cailleach (Mull Theatre/ Sonder Circus). Previous work for A Play, A Pie and A Pint comprises The Infernal Serpent, Turns of the Tide, For The Love of Chekov and After The Cuts. Among her other works are The Domestic (NTS - Scenes for Survival/ BBC) and the reimagined After The Cuts (Raw Material). She was associate director on Eric The Elf's Chaotic Christmas (MacRobert Arts Centre); Glasgow Girls (Raw Material/Pachamama); and Janis Joplin: Full Tilt (Theatre Royal Stratford East) and has worked notably with the Tron Theatre, Manchester Royal Exchange, and the National Theatre of Scotland.
Please note this play ended on Sat, 19 November, 2022.