Please note this play ended on Sat, 18 February, 2017.
Directed by Gerry Lynch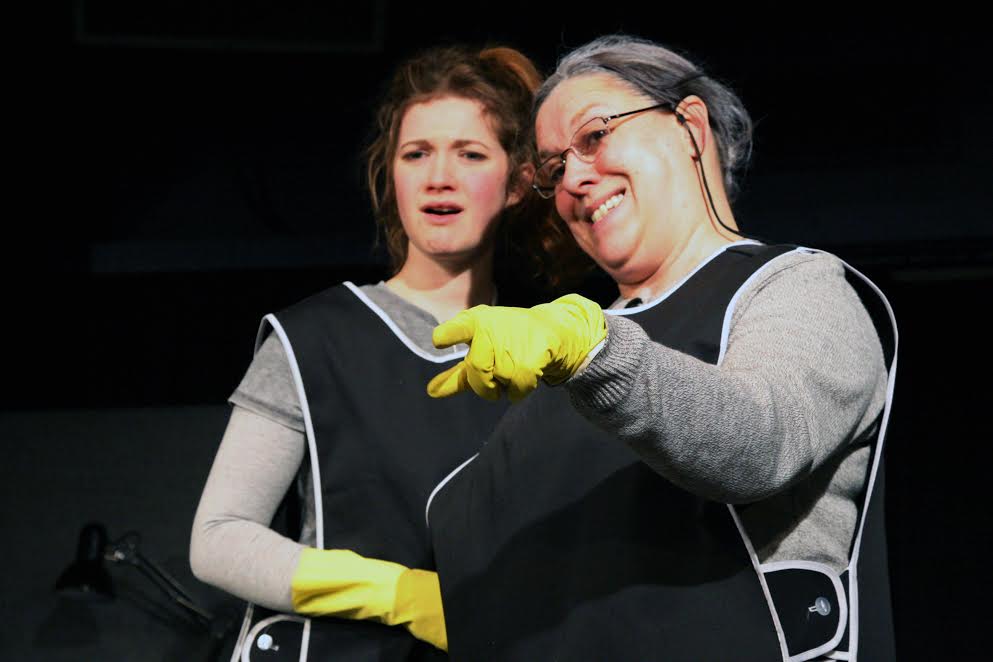 Cast: Joyce Falconer and Karen Fishwick. 
Produced by A Play, A Pie and A Pint at Òran Mór, presented in association with Aberdeen Performing Arts.
Muriel and Lorraine are office cleaners.  They're the best, polishing a dazzling shine on everything while imagining the lives of the workers they never meet.  But however hard they work,  they can never get things clean enough to satisfy the tyrannical boss, Mr B.  Then one morning they find the worst mess of all, Mr B's corpse.  Who killed him, and why?
Rona Munro has written extensively for stage, radio, film and television including the trilogy 'THE JAMES PLAYS' for the National Theatre of Scotland, The National Theatre of Great Britain and the Edinburgh International Festival.
"THE JAMES PLAYS' won the Evening Standard best play and Writer's Guild best play awards in 2015
Other credits include award winning plays "IRON' which won the John Whiting award in 2003 'THE MAIDEN STONE" which won the Peggy Ramsay Memorial award and 'BOLD GIRLS' which won the Evening Standard award, Critics Circle award and Susan Smith Blackburn award.
Film and tv work includes 'ORANGES AND SUNSHINE' directed by Jim Loach and starring Emily Watson and Hugo Weaving,  the Ken Loach film 'LADYBIRD LADYBIRD"  which won a Silver Bear at the Berlin Festival "AIMEE and JAGUAR' Silver Bear winner and Golden Globe nomination, and BAFTA nominated 'BUMPING THE ODDS' for the B.B.C.  She has also written many other single plays for tv and contributed to series such as 'CASUALTY' and 'DR WHO'.
Please note this play ended on Sat, 18 February, 2017.