Please note this play ended on Sat, 01 October, 2022.
Directed by Becky Hope-Palmer | Cast - Louise Stewart and Yolanda Mitchell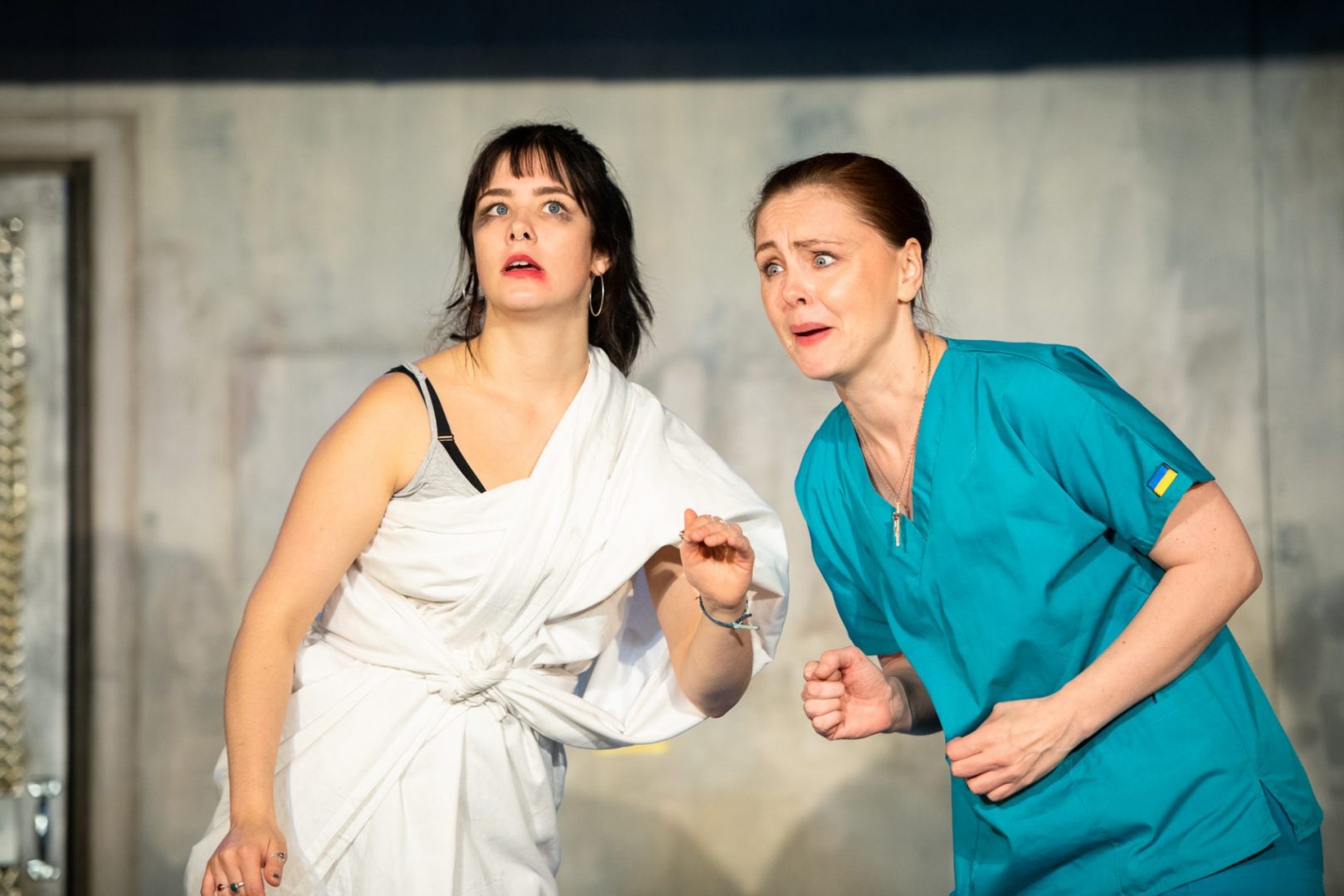 "Leave or stay. You can be alive, or you can be dead. You choose!"
Ukraine, the present: two women wake up to find themselves trapped in a morgue. Are they actually dead and being held in limbo…? Or maybe there is a nuclear war or pandemic outside…?
Is help on its way? Is someone listening in? Could their escape depend on playing for the right side – pro-European or pro-Russian? And if the door does open, will it be safe to leave?
This very funny black comedy by leading Ukrainian playwright Neda Nezhdana is highly topical, reflecting the limbo for some people in eastern Ukraine, caught between opposing forces.
Presented in association with Aberdeen Performing Arts and The Traverse Theatre.
Cast
Tour Dates
The Traverse Theatre, Edinburgh | w/c 3rd October 2022
The Lemon Tree, Aberdeen | w/c 10th October 2022
NEDA NEZHDANA is one of Ukraine's leading playwrights, theatre-makers, poets and translators. She is the author of twenty-four original plays, including The Suicide of Loneliness and When the Rain Returns, plus eight adaptations and two collections of poetry. Born in Kramatorsk in the Donetsk region, she lives in Kyiv, but is now in internal exile in Chernivtsi. She has worked with the Lesya Kurbas National Centre for Theatre Arts for twenty years, founded the Kyiv independent theatre MIST and is Chairman of the Confederation of Playwrights of Ukraine. Her plays such as Pussycat in Memory of Darkness, He Opens the Door, and Lost In the Fog have become potent symbols of Ukraine's battle for independent existence. One of her most celebrated plays is the culture-defining semi-documentary drama Maidan Inferno about the pivotal events of the Maidan of 2014. It has been performed in France as well as across Ukraine. Stage readings and excerpts from Maidan Inferno have been performed in several Ukrainian cities in the months since the invasion, and her play Ovetka received its wartime premiere in Uzhhorod in April 2022.
BECKY HOPE-PALMER trained at the Royal Conservatoire of Scotland and was a finalist for the prestigious JMK Award in 2019 and 2021. She is an associate artist for She Productions in East Yorkshire and worked for two years on attachment with the Royal Shakespeare Company from 2017-2019. She has worked throughout Scotland at organisations including the Traverse Theatre, Royal Conservatoire of Scotland and in various capacities at the Lyceum Theatre in Edinburgh, most recently writing and directing their first young company production, Seven Against Edinburgh. For Play Pie Pint, most recently she has directed work by David Ireland, Graeme Rooney and Morna Pearson.
Please note this play ended on Sat, 01 October, 2022.