Please note this play ended on Sat, 10 June, 2023.
Directed by Jemima Levick | Cast - Darren Brownlie, Tom Urie, Dylan Wood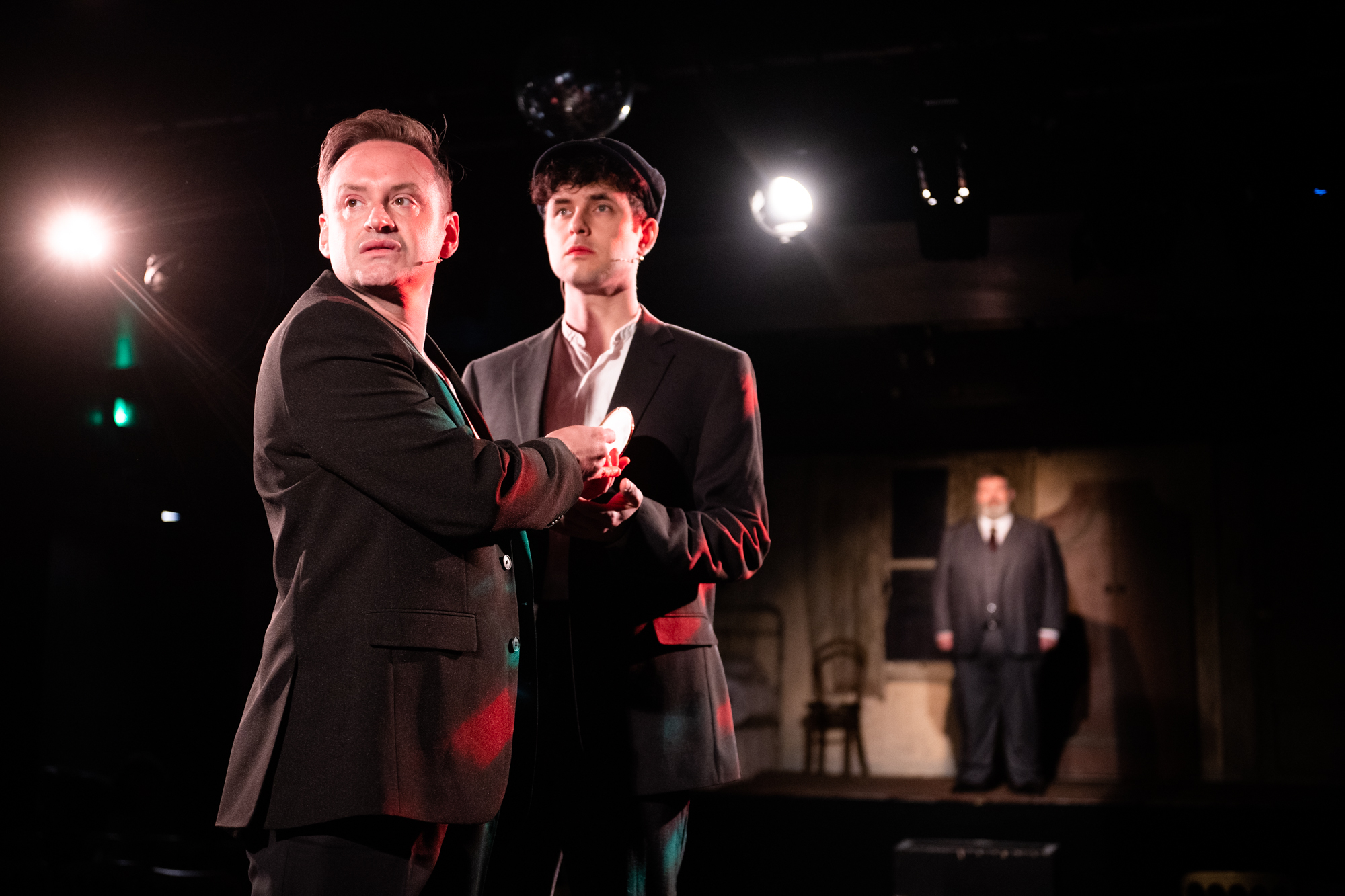 A raucous new musical by Johnny McKnight very, very loosely inspired by the real-life story of the Glasgow's White Hats.
1920s Broomielaw in Glasgow was ruled by a little-remembered and little spoke about gang called the White Hats. This wasn't your usual bunch of butch macho razor-boys, no, the White Hat Boys did it differently. They stole, sold their bodies, bribed government officials and wealthy clients with the threat of turning them in to the police for acts of homosexuality. And they did it whilst in drag.
Taking place over one night in a hotel room, The White Hats attempt to bribe a High Court judge but to a murderous and disastrous end….
★★★★★
"gritty, hilarious and at times very moving"
Broadway World Scotland
Dates
Oran Mor, Glasgow: w/c 5th June 2023
Creative Team
Writer: Johnny McKnight
Director: Jemima Levick
Composers: Novasound (Lauren Gilmour and Audrey Tait)
Designers: Gemma Patchett and Jonny Scott
Assistant Director: Neil John Gibson
JOHNNY MCKNIGHT is an award-winning writer, director, educator, dramaturg and performer. This is his fourth Oran Mor following A Perfect Stroke, The Joke and The Golden Rage. He has been described as the 'vanguard of post-modernist panto', with 23 productions and a slew of nominations for these works. In the last few years Johnny has transitioned into television, working as part of the core writing team for BBC's continuing drama River City (with 30+ Hour episodes) and Holby City. He is currently Associate Artist at National Theatre of Scotland.
JEMIMA LEVICK has been Artistic Director of A Play, a Pie and a Pint since April 2021. Between 2016-21 she was Artistic Director and Chief Executive of Stellar Quines Theatre Company, and prior to that, she was Associate and latterly Artistic Director of Dundee Rep. She has won and been nominated for a number of awards and has directed more than 40 professional productions. Her recent credits include Cinderella (Dundee Rep); Maggie May (Leeds Playhouse, Leicester Curve & Queens Theatre, Hornchurch); Sally, Man's Best Friend, Joke (A Play, A Pie and A Pint); and episodes of River City for BBC Studios. She has also directed for National Theatre of Scotland, The Royal Lyceum Theatre, Dundee Rep, Stellar Quines, Borderline, Grid Iron, The Traverse Theatre and Paines Plough.
NOVASOUND is the writing partnership of Audrey Tait and Lauren Gilmour. Since scoring their first short film with Greenlight Creative for the BBC, they have collaborated with the likes of NTS, Stellar Quines, Birds of Paradise, Scottish Playwrights Studio, Jordan & Skinner, ItIsOn, amongst others. Novasound is Scotland's only female-run recording and production studio.
Please note this play ended on Sat, 10 June, 2023.