Please note this play ended on Sat, 12 November, 2022.
Directed by Shilpa T-Hyland | Cast - Angus Miller, Mercy Ojelade, Naomi Stirrat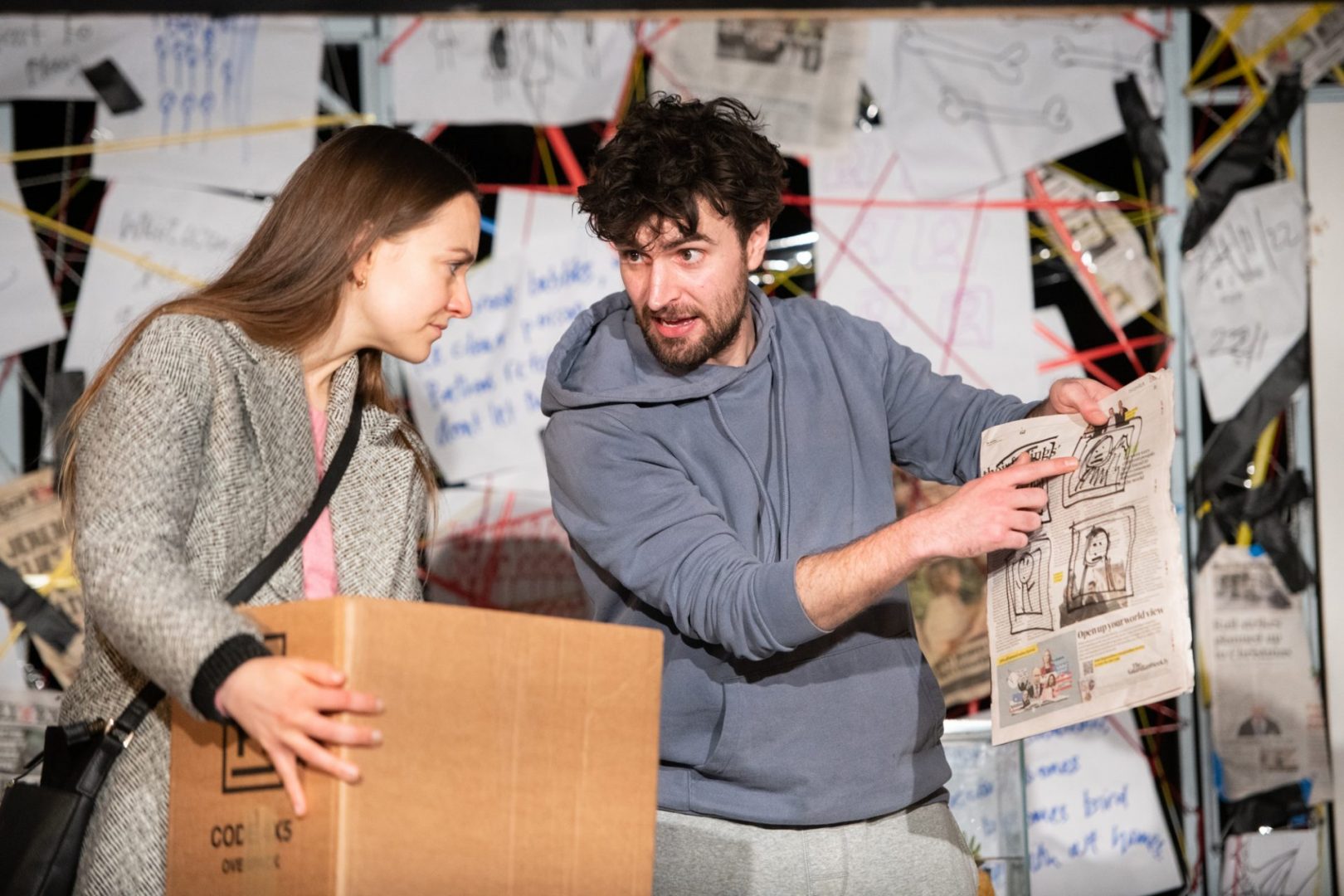 A big-hearted new comedy about a man who has constant predictions and is now attempting to stop Britain's bleak future from happening. 

Mikey has been having visions for years now, but it wasn't until he predicted the Coronavirus that he started to take note…
While his pals have returned to normality, Mikey remains in isolation, unable to prevent the rigged election in Tuvalu and, arguably, the even bigger disaster of Harry Styles getting a full-face tattoo.
But now Mikey has to act. He has seen Britain's bleak future and must force it to change course!
The Prognostications of Mikey Noyce is a big-hearted new comedy that reflects upon our collective experiences of living in Britain over the last three unprecedented years.
Presented in Association with Aberdeen Performing Arts.
Cast
Tour Dates
The Lemon Tree, Aberdeen | w/c 14th November 2022
FRANCES POET is a Glasgow-based writer of stage, screen and radio. Stage plays include: Maggie May (Susan Smith Blackburn Prize Finalist 2021, Leeds Playhouse/Leicester Curve/Queens Theatre, Hornchurch), Still (Traverse Theatre 2021), Sophia (Pitlochry/Lyceum Theatre Sound Stage 2021), Crusaders (NT Connections 2020), Fibres (Stella Quines/Citizens Theatre 2019), Gut (Writers' Guild Best Play Award, Traverse Theatre & Tron Theatre 2018) and the multi-award winning Adam (Scottish and UK tours 2017/18, NYU Skirball Centre 2019 and Gasworks Arts Park, Melbourne 2020). Frances' writing career was launched by the wonderful and supportive David MacLennan when he programmed her first play, Faith Fall, for A Play, A Pie, A Pint. It's a thrill to be back.
SHILPA T-HYLAND directed her first Play Pie Pint earlier in 2022: Oscar by Brian O'Sullivan. Other credits include: Directing Revolution Days (Bijli), We'll Meet in Moscow (Traverse Theatre), Roxana (Paisley Book Festival/Renfrewshire Leisure), and How to Disappear Completely and Never be Found (Royal Conservatoire Scotland); Associate Directing Still (Traverse Theatre), and Pride and Prejudice (Sort Of) (Blood of the Young, The Lyceum Theatre & others), and assistant directing Crocodile Fever (Traverse Theatre, JMK regional bursary, funded by the Leverhulme Trust Arts Scholarships Fund). She is a PhD candidate at the Royal Conservatoire Scotland, and an Associate Artist at the Traverse Theatre.
Please note this play ended on Sat, 12 November, 2022.