Please note this play ended on Sat, 15 October, 2022.
Directed by Niloo-Far Khan | Cast - Joe Douglas, Faisal Abu Alhayjaa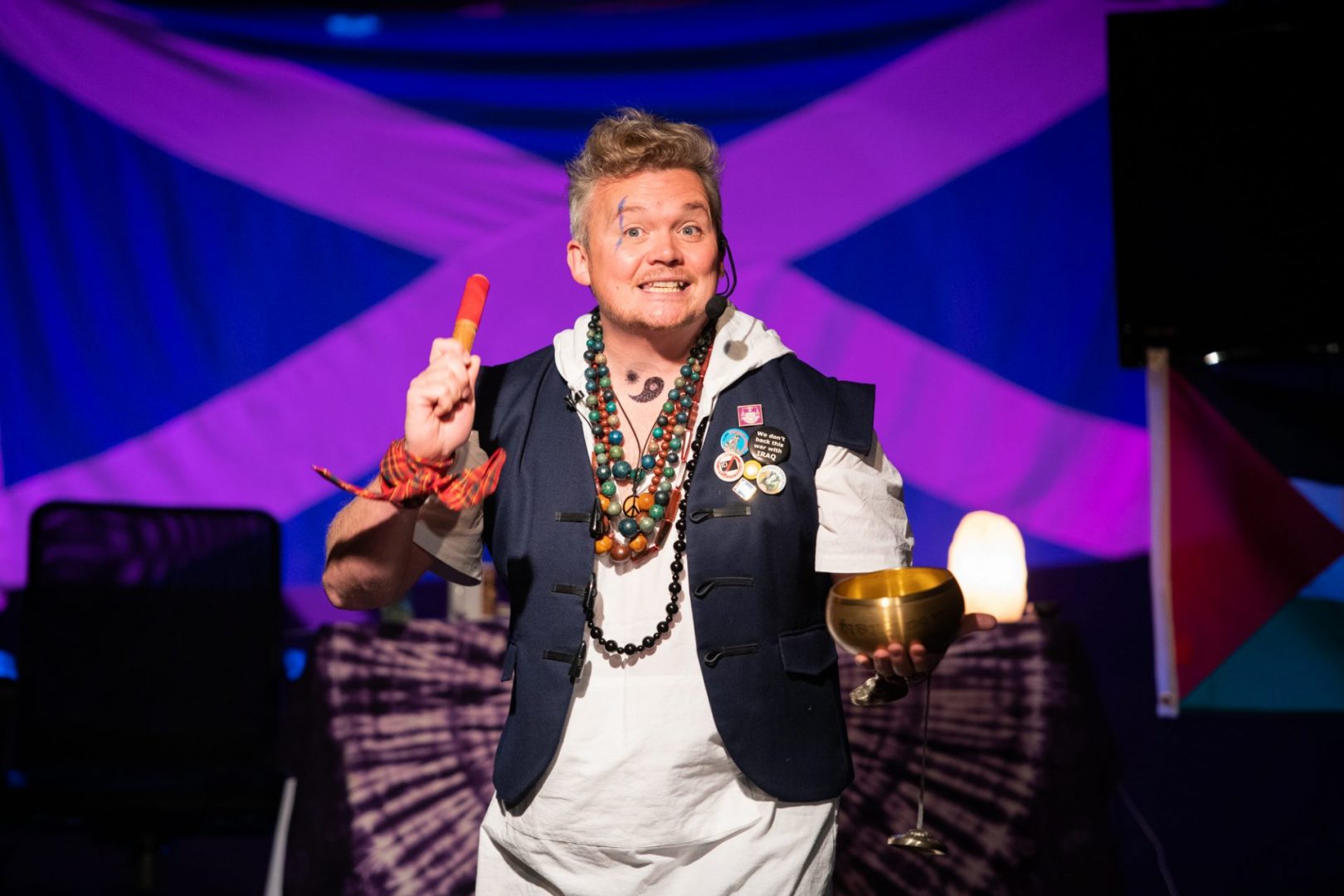 Namaste the Noo!
Join the one and only Boswell Duff at Oran Mor for a live taping of his hit podcast THE PEACE PIECE – conversations on World Peace, inner peace and Peaceistism!
For his remarkable 303rd episode, Boswell is joined this week by a very special guest – live from the Middle East – for some juicy 'peace-full' content.
The Peace Piece is a hilarious Alan Partridge-esque satire that discusses the Israel-Palestine conflict, Wellness-ness and Mel Gibson's terrible accent in Braveheart.
Rehearsals
JOE DOUGLAS is a director, writer and dramaturg. He has directed eight plays for A Play, a Pie & a Pint, including The Sunday Lesson, The Call of the Wild, Fat Alice, The Body Electrician and Hello In There. He is over the moon to be working back at PPP, as he loves it when food and theatre mix. He was Artistic Director of Live Theatre in Newcastle (2018-20) and Associate Artistic Director of Dundee Rep (2016-17). Other more recent work includes Super Special Disability Roadshow (Birds of Paradise) The Cheviot the Stag and the Black Black Oil (Dundee Rep / NTS), Arabian Nights (Lyceum) and Stand By (Scottish Theatre Producers).
FAISAL ABU ALHAYJAA is an actor and comedian from Jenin Refugee Camp in Palestine. A graduate of The Freedom Theatre Acting School, he has performed throughout Palestine, as well as in Brazil, Egypt, India, the UK, the US, and across Europe. He graduated from Red Noses International's School of Humor in Austria and has clowned in refugee camps in Greece and Bosnia. In 2018, Faisal toured the UK, appearing in Showtime from the Frontline, which he co-wrote and performed with celebrated British comedian Mark Thomas. Faisal was a Lab Fellow at Georgetown University's Laboratory for Global Performance and Politics. In 2019, he was selected by Sundance Theatre Lab to develop a comedy show. From 2019-2021, Faisal directed the Jenin Comedy Club.
NILOO-FAR KHAN is an Edinburgh theatre-maker that believes stories can encourage us to look deeper into how we navigate belonging and find compassion for each other. Her recent works include directing: radio play 'Glory, Glory an Edinburgh Story' (by Kamala Santos/Tamasha & HolyMountain Productions, 2022; 'Black Scots' (National Theatre of Scotland/BBC Scotland, 2020; and assisting on: 'A Christmas Carol' (adapted by Noisemaker & Andrew Panton/Dundee Rep, 2021) and 'Orphans', (by Peter Mullan, adapted by Douglas Maxwell, directed by Cora Bissett, composed by Roddy Hart & Tommy Reilly/National Theatre of Scotland, 2022).
Please note this play ended on Sat, 15 October, 2022.