Please note this play ended on Sat, 07 May, 2016.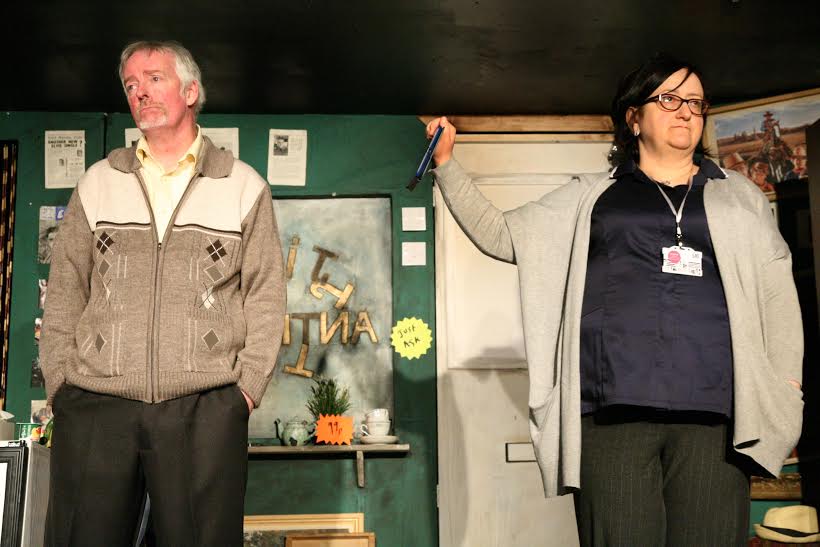 Featuring Cameron Cunningham, Elaine MacKenzie Ellis and Finlay McLean
Seventy one year old Jim lives alone in the back room of his low-end antique shop that barely makes ends meet. Without any family around, and only the occasional visits from homecare worker Lorna, Jim lives a lonely and grumpy existence; that is, until the young Ash – who has been secretly squatting in Jim's loft – comes, literally, crashing into his life.
Second Hand is a gentle, feel good comedy following two men from very different generations as they try to navigate the modern world as members of the 'next' and 'last' generations.
A funny and sometimes touching allegory for modern living.
Paul is a Refuweegee: having moved to Glasgow from his native Co Durham to train as an actor at RCS. He lives with partner Shona, son Zander and their imaginary dog Santiago.
He also loves real dogs, however Shona won't let him have one. Ever! Even though Santiago is old and going to die soon! It also doesn't help that Zander is allergic to Santiago. Paul's thinking about getting an imaginary pet rabbit when Santiago dies, but it's quite a commitment and Rabbits are for life, not just for stew. Plus the price of imaginary carrots is extortionate these days!
As well as being an imaginary animal lover, Paul was also the co-creator, co-writer and co-star of BBC2 sketch show The Ginge, the Geordie and The Geek. He has won two Fringe First Awards for his plays 'Love, Sex and Cider' (2003) and 'Crush' (2009)- the latter was also nominated for the Carol Tambor Best of Edinburgh Award before embarking on a sell out national tour. The former was toured by Jacuzzi theatre to venues including the Traverse, The Tron and Contact Theatre, Manchester. Other plays include Moving Family, Butterfly and Little Fish which was longlisted for the Bruntwood prize and short listed for the George Devine award 2012.
Please note this play ended on Sat, 07 May, 2016.