Please note this play ended on Sat, 01 April, 2023.
Directed by Gordon Barr | Cast - Nicole Cooper, Johnny Panchaud, Beth Marshall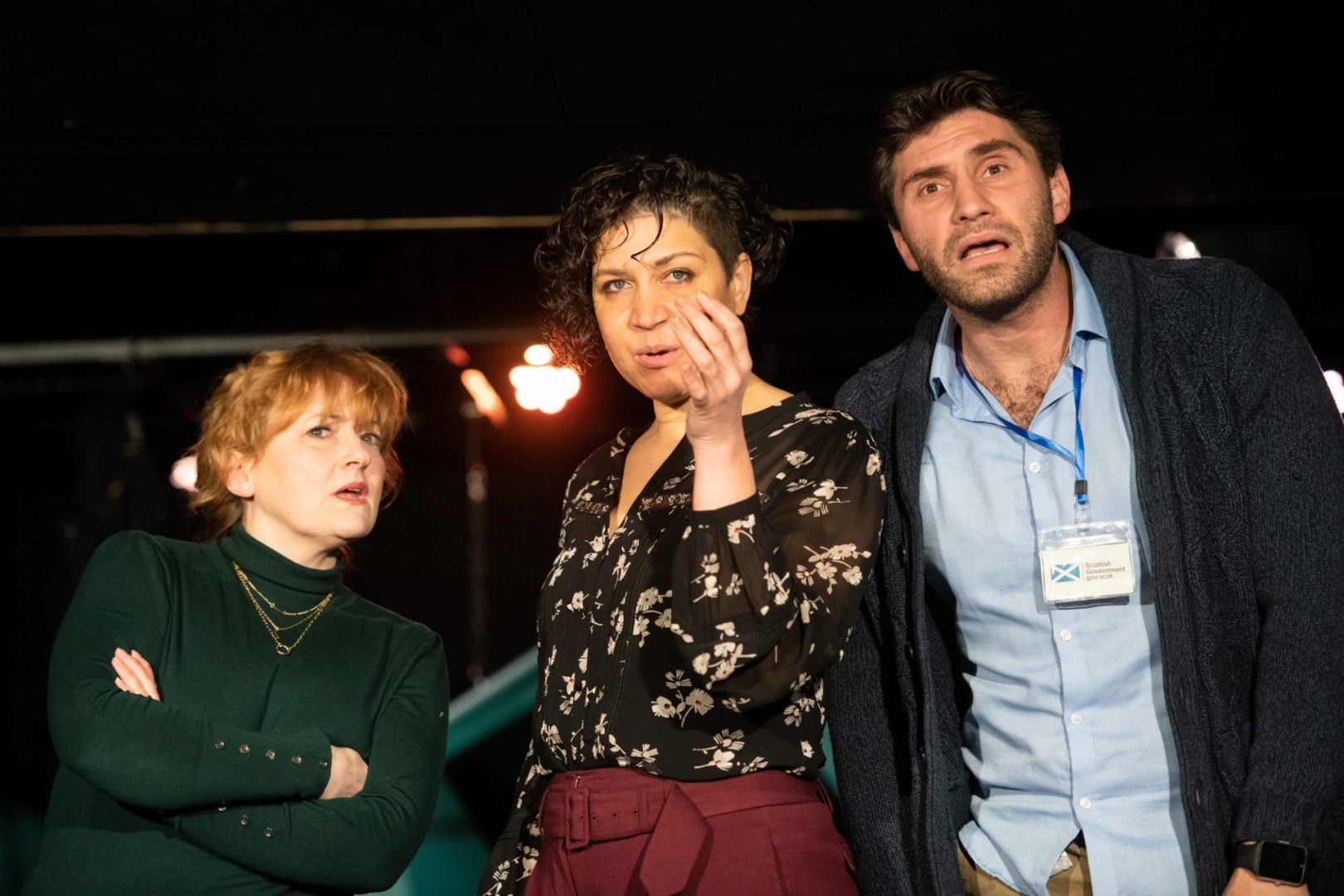 A government minister develops telekinetic powers after being 'sparked' by years of repressed rage in this new comedy-drama.
Robin, a prominent government minister, has spent decades staying silent and keeping her inner rage bottled up inside.
As she deals with her boorish speechwriter, Robin also develops classic perimenopausal symptoms including some 'unusual' changes that aren't listed on any of the NHS website lists…
The Spark, by the award-winning team behind Bard in the Botanic's Medea, is about the ability to suddenly fight back and the ways in which a woman can and cannot remake her life and her world.
Co-presented with The Traverse Theatre.
Dates
Oran Mor, Glasgow: w/c Mon 27 March 2023
Traverse Theatre, Edinburgh: w/c Mon 3 April 2023
KATHY MCKEAN
Kathy McKean is a playwright. Her most recent work includes Getting Close, written as part of the National Theatre of Scotland's Scenes for Survival project, directed by Nick Bone and a new version of Medea for four performers, written for Bard in the Botanics Theatre Company, directed by Gordon Barr (winner of two CATS awards). She is currently developing a new play with support from the Playwrights' Studio, Scotland and Magnetic North Theatre Company.
GORDON BARR
Gordon Barr is Artistic Director of Bard in the Botanics and his directing credits for the company include Medea (CATS Award for Best Production; CATS nomination for Best Director), Much Ado About Nothing, The Winter's Tale, Twelfth Night, Hamlet, As You Like It, Antony and Cleopatra, Edward II, Measure for Measure, The Taming of the Shrew, Macbeth, Coriolanus, The Merchant of Venice, Love's Labour's Lost, Romeo and Juliet, Henry IV, Othello, A Midsummer Night's Dream, Pericles, King Lear and Richard III. He has written and directed the Byre Theatre panto for the past decade, most recently Snow White in 2022.
Please note this play ended on Sat, 01 April, 2023.