River City Stars to Open Spring Season
Tue 20th January 2015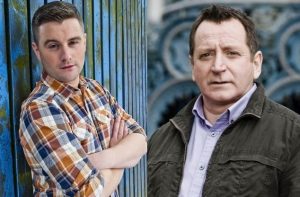 A Play, A Pie and A Pint springs into action again on Monday, opening with BUTTERFLY by first time playwright Anne Hogg, featuring River City stars Paul James Corrigan and Frank Gallagher.
Paul, who can regularly be seen as cheeky barman Stevie Burns on the soap, stars alongside Frank, known to most as hardman Lenny Murdoch. Set in 1987, the play is based around the real life event of the closure of the Caterpillar factory in Uddingston.
BUTTERFY by Anne Hogg
Directed by Stasi Schaeffer
Featuring Paul James Corrigan and Frank Gallagher
MON 26th – SAT 31st JAN
It's March 1987 and Jamie Cassidy is facing redundancy. This, in an area already ravaged by factory closures, is bad enough but making a life shattering discovery has driven him to despair. In an attempt to get away from everything to consider his future Jamie climbs the factory's water tower. However, he soon discovers he's not alone…or the only one with problems. Butterfly is a black comedy dealing with complicated lives, loves, buried secrets… and a geriatric baby with an extreme fear of heights.