NEW MINI MUSICALS SEASON ANNOUNCED
Fri 06th May 2016
Mini Musicals Season at A Play, A Pie and A Pint
June – July 2016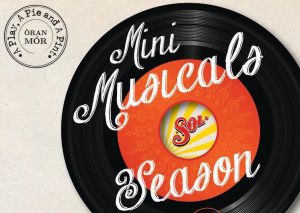 JUST ANNOUNCED… Father and son team Dave Anderson and Davey Anderson will be playing together in The Day I Found the Blues, along with top musician and harmonica player Fraser Speirs. Angela Darcy (Janis Joplin: Full Tilt) will team up with Jimmy Chisholm, Harry Ward and George Drennan in Mack the Knife by Morag Fullarton. Third up is our big success from earlier this year, the fantastic FRANCES & ETHEL, back by popular demand. The fabulous Frances Thorburn reprises her role as Judy Garland alongside John Kielty and Alison Peebles. And in our final show of the season, Paul James Corrigan (River City | Gary: Tank Commander) joins Kara Swinney and Darren Brownlie for Vinyl Idol. 
A Play, A Pie and A Pint is delighted to announce an exciting new treat for audiences this summer.
A sparkling season of Mini-Musicals specially written to delight all lunchtime theatre goers.
Come along and experience the birth of the blues, be whisked back to Berlin in the 1920's, have your heart melted by Judy Garland and be thrilled by a darkly funny tale of pop  history's vintage dreamboats.
P.S… Long time friend Dave Anderson's 'The Day I Found the Blues' will mark our 400th play!   Come and join in the celebratory atmosphere at the Òran Mór!
CHECK OUT THE WHAT'S ON PAGE MORE MORE INFO ON THE PLAYS
Jun 6th – 11th
THE DAY I FOUND THE BLUES
By Dave Anderson
Jun 13th – 18th
MACK THE KNIFE
By Morag Fullarton
Jun 20th – 25th
FRANCES & ETHEL
By David Cosgrove
Jun 27th – Jul 2nd
VINYL IDOL
By Debbie Hannan & Andy McGregor