Please note this play ended on Sat, 02 April, 2022.
Directed by Kenny Miller | Cast - Neil John Gibson, Kristopher Bosch and Ann Louise Ross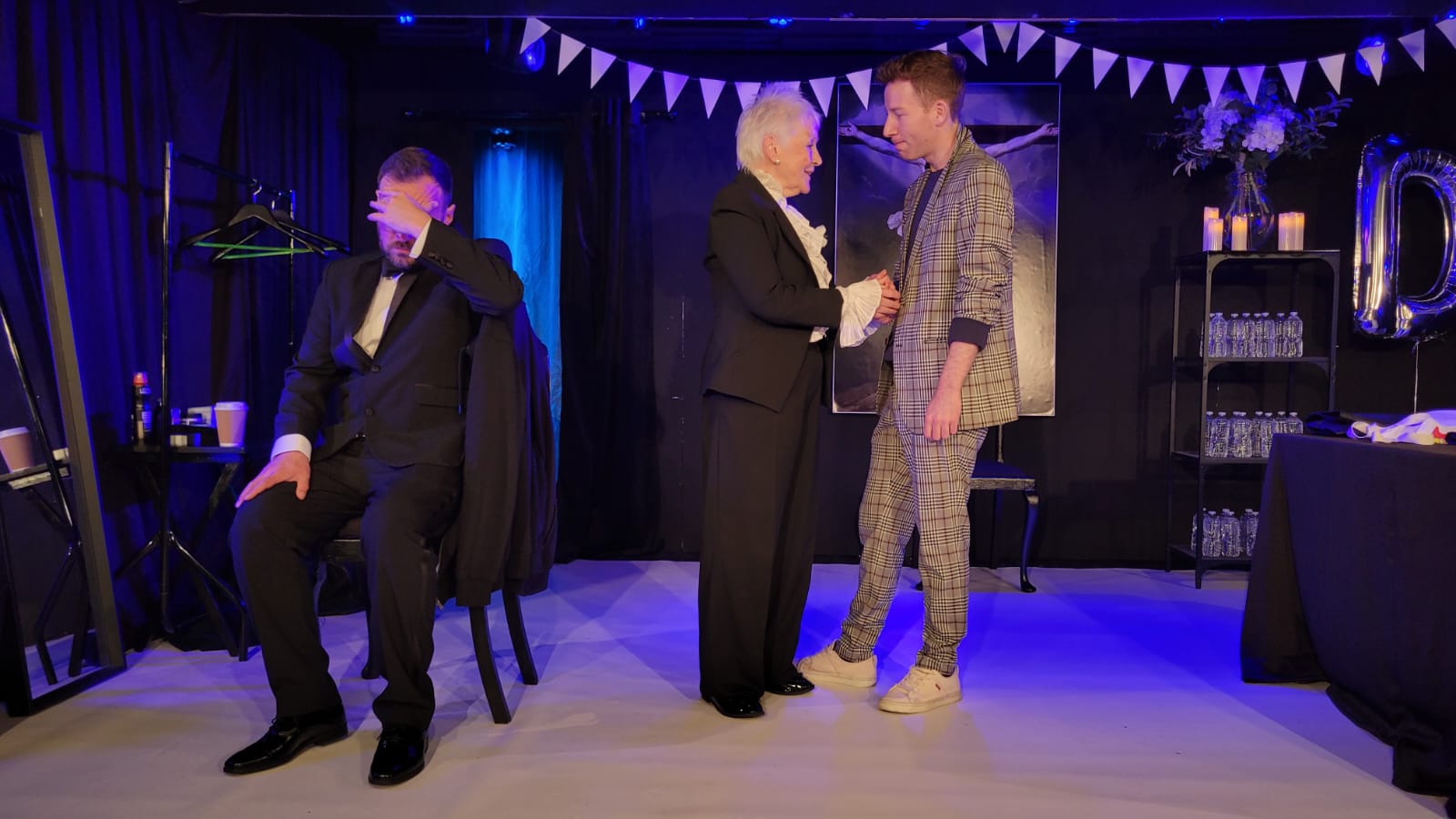 'Daniel Getting Married' is back on stage! We are thrilled to announce that Darren Brownlie has temporarily stepped in to fill the role of Gabriel on Wednesday 30th and Thursday 31st March. The wedding of the year is back on… but who will make it down the aisle?"
For existing ticket holders with tickets to Tuesday's cancelled performance, TicketWeb will contact you to let you know how to request an exchange/refund. We apologise for any inconvenience caused and we thank you for your understanding. If you have any problems, please contact info@playpiepint.com to let us know.
---
The big day has come, the guests are arriving, and Daniel is waiting in the church vestry with his mum, Joy, for his wedding to Zach to begin. However, when his ex-boyfriend Gabriel turns up with his own proposal, walking down the aisle and saying the words "I Do" might not be quite as simple as Daniel thought…or it might be easier…right?
Presented in association with Traverse Theatre.
Cast
Tour Dates
Traverse Theatre w/c 4th Apr, 2022
Due to unforeseen circumstances Johnny McKnight has had to withdraw from this project and Kenny Miller will be stepping in as director.
JD STEWART is a gay playwright, performer, and digital content creator from the Scottish Borders. He holds an MFA in Dramatic Writing from New York University and an MSc in Playwriting from The University of Edinburgh. His work includes: COMPRESSION (Theatre Uncut Finalist, 2019), ONE TWENTY-ONE (Verity Bargate Top 100, 2020) THE BIRTHDAY, ENGAGEMENT, FUNERAL PARTY (Hope Mill Theatre Prize Shortlist, 2021), ELASTIC (Platform Presents Play Prize Finalist, 2021), PINKFACE with Olivia Fischer (Vanishing Point: Everyone is Creative Award, 2021). 
Alongside Frazer Flintham, he is co-host/creator of the LGBTQ+ History Podcast: THE ONE FIFTY MARCHERS.
 
KENNY MILLER is a freelance director and designer who was for many years Head of Design / Associate Director at the Citizens' Theatre, Glasgow.
Recent credits as Designer & Director: Witness for the Prosecution & And Then There Were None Dundee Rep; April in Paris and And The Beat Goes On Perth Theatre; Olive the other Reindeer, Cinderfella, Alice in Weegieland,Sleeping Betty and Peter Panto and the Incredible Stinkerbell, Tron Theatre; Pinocchio for Scottish Youth Theatre; Harold and Maude and Days of Wine and Roses for Theatre Jezebel.
Recent credits as Designer: Rapunzel and The Tin Forest National Theatre of Scotland; Smile and DeathtrapDundee Rep; The Cherry Orchard, The Weir, Bird (also Royal Exchange Manchester), A Doll's House and Romeo and Juliet Sherman Cymru; Macbeth & Blithe Spirit Perth Theatre; Blanche & Butch (also directed) In An Alien Landscape, The Man Who Lived Twice Birds of Paradise Theatre Company and national tour; Unicorn Dance Party, Unicorn Christmas Party (Raw Material Arts); The Paisley Suite Outspoken Arts; The Dolls – Abroad & The Dolls – Dragged Up National Tour; Motherfucker With The Hat, Mammy Goose, Miracle on 34 Parnie Street, Cannibal Women of Mars, Aganeza Scrooge, Plume, Mister Merlin's Pure Panto Magic, Flo White, Valhalla! and Casablanca: The Gin Joint Cut for Tron Theatre; Cuttin' A Rug & Marilyn for the Citizens' Theatre and Royal Lyceum Edinburgh; Staircase by Charles Dyer Tron Theatre; Slug for Visible Fictions and Clockwork an adaptation of an original work by Phillip Pullman co-production also with Scottish Opera; Douglas Maxwell's new musical The Bookie Cumbernauld Theatre and national tour; Doubt: A Parable and the UK Premiere of Autobahn (also co-directed) and Lady M: His Fiend-Like Queen Theatre Jezebel / Tron Theatre; Ya Beauty and the Beast, Betrayed, From the West Bank, and Address Unknown Tron Theatre; Mary Queen of Scots Got Her Head Chopped Off and Our Teacher's a Troll National Theatre of Scotland; Proof and Tam O'Shanter Perth Theatre; The Steamie national tour & SSE Hydro and Born Bad Scottish Youth Theatre.
Please note this play ended on Sat, 02 April, 2022.