Please note this play ended on Sat, 09 September, 2023.
Directed by Niloo Far-Khan | Cast - Kirsty Findlay, Chloe Hodgson, Christina Strachan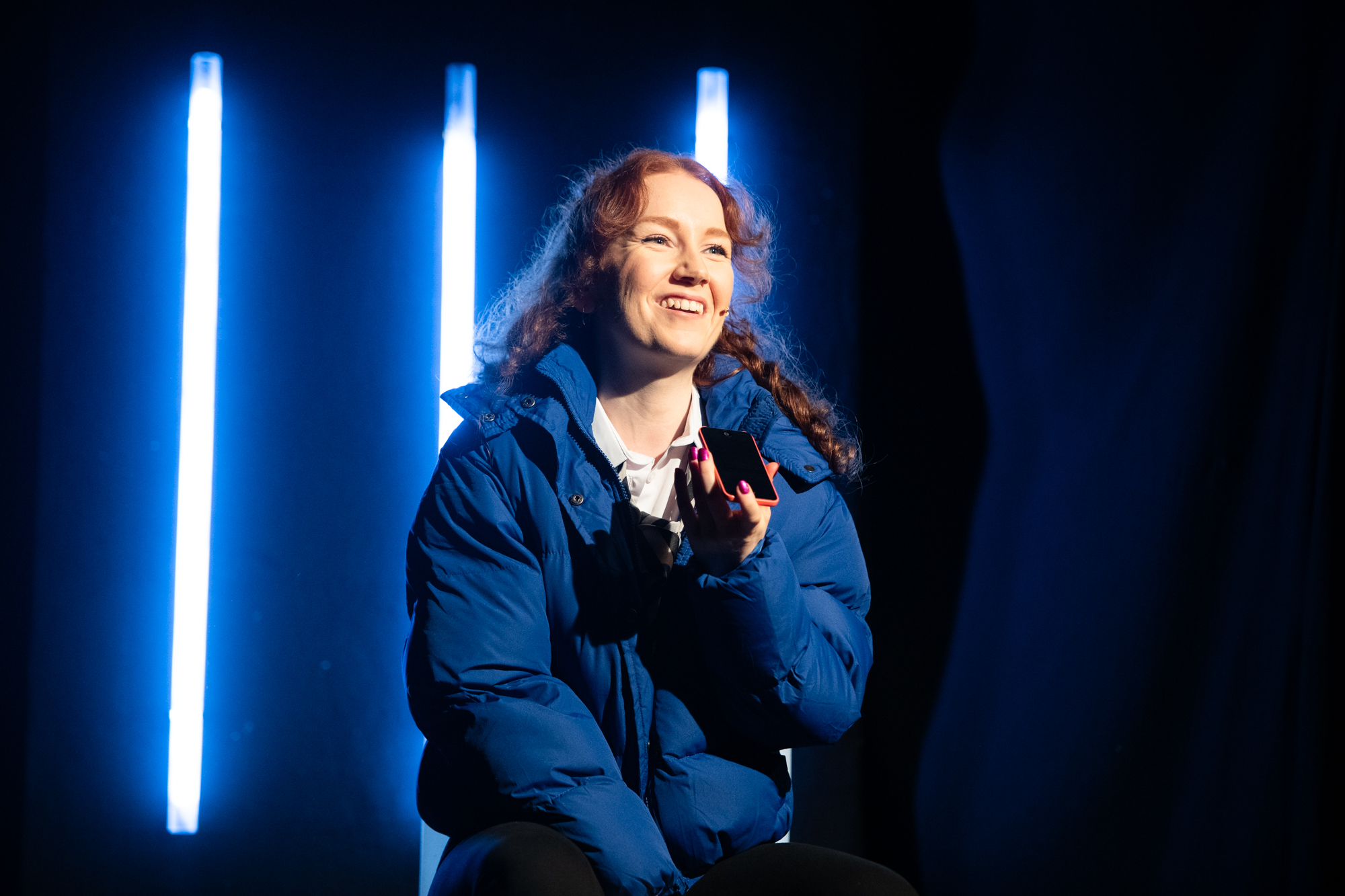 An uplifting and inspiring musical play about identity, family and finding your way home.
Growing up is never simple but for Caitlin, there are extra complications: Caitlin was in care, then adopted, now her birth family want her in their lives. Things are spiralling out of control…..
Caitlin and her Mum have been called into the Head Teacher's office. But she's done nothing wrong. Ms McKenzie's breath does stink, she was doing her a favour, everyone vapes and they can't prove she was anywhere near the fire alarm!
Co-presented with Pitlochry Festival Theatre and Ayr Gaiety.
Dates
Oran Mor, Glasgow: 4-9 September 2023
Pitlochry Festival Theatre: 11-16 September 2023
Ayr Gaiety: w/c 18 September 2023
Cast
Creative Team
Book and lyrics by Pauline Lockhart
Music by Alan Penman
Directed by Niloo-Far Khan
Production Shots
PAULINE LOCKART is an Actor, Writer and Theatre Maker who has worked with many of the UK's leading theatre companies.
She was awarded the TMA Award and Manchester Evening News Award for Best Supporting Actress for An Experiment with an Airpump (Manchester Royal Exchange). As a Writer she has been commissioned by the Traverse Theatre and Grid Iron Theatre Company and co-wrote and co-directed, Strange Tales, which was a co-production with The Traverse Theatre/Grid Iron Theatre/Royal Shakespeare Co and The Confucius Institute.
Pauline recently achieved her 5th Degree Blackbelt in Taekwondo.
ALAN PENMAN is an Edinburgh-based composer and musician. He has worked for almost every theatre company in Scotland, most recently Perth Theatre and Macrobert Arts Centre, Stirling and is delighted to be working with PPP for the first time.
His television credits include music for BBC, ITV, BBC Alba, Disney Channel, CBBC and CBeebies. His original mini-operas, commissioned by Scottish Opera, have toured all over the UK and the world, and he regularly contributes to Harper Collins music education resource.
Alan is a respected music educator and has led music workshops and choirs all around Scotland.
NILOO-FAR KHAN is an Edinburgh theatre maker that believes stories can encourage us to look deeper into how we can share and navigate our belonging. Her recent works include directing: Santa's Little Astronaut (by Andy McGregor/Macrobert Arts Centre, 2022), Jinnistan (by Taqi Nazeer/Play, A Pie & A Pint, 2022); radio play Glory, Glory an Edinburgh Story (by Kamala Santos/Tamasha & HolyMountain Productions, 2022); co-creating When Mountains Meet (by Anne Wood and Kath Burlinson/Authentic Artist Collective/Celtic Connections, 2023), and assisting on: Orphans (by Peter Mullan, adapted by Douglas Maxwell, directed by Cora Bissett, composed by Roddy Hart & Tommy Reilly/National Theatre of Scotland, 2022), and Muster Station: Leith (directed by Ben Harrison/ GridIron & Edinburgh International Festival, 2022).
Please note this play ended on Sat, 09 September, 2023.