Please note this play ended on Sat, 17 September, 2022.
Directed by André Agius | Cast - Kevin Lennon, David McKnight, Julia Murray and Mary Gapinski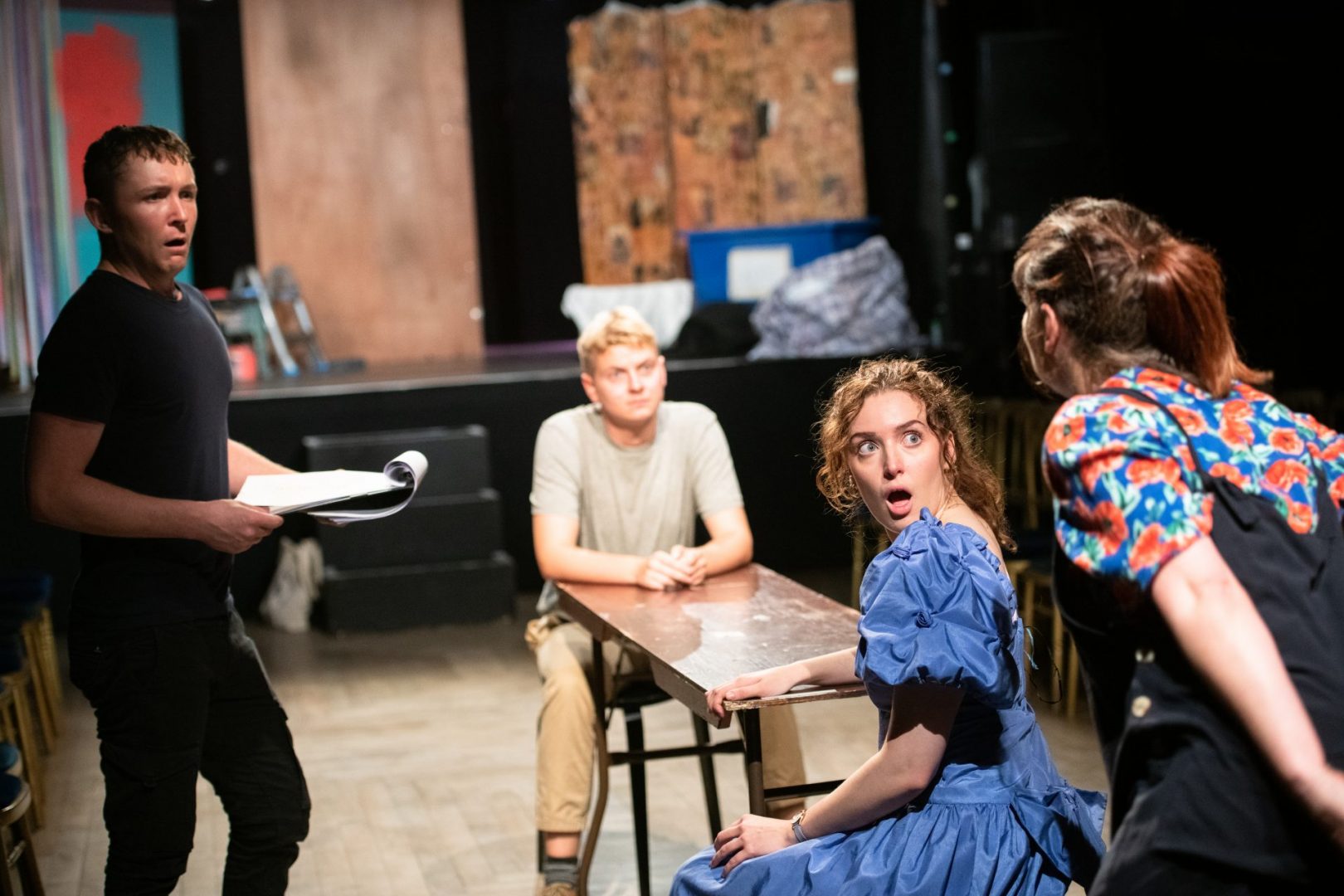 To save his reputation, the radical and rebellious actor-writer-director Molière has ambitiously agreed to stage a brand-new play at Òran Mór for a VIP with just two hours' notice.
Can he find actors in time? Will they learn their lines? How can they learn their lines without a script? and who is this VIP? Come join the madness – and see if they'll manage to pull it off!
Impromptu at Òran Mór is a farcical comedy adapted from Molière's witty and unique, L'Impromptu de Versailles.
Presented in Association with Ayr Gaiety.
Cast
Tour Dates
The Gaiety, Ayr | w/c 19th September 2022
MORNA PEARSON is an Elgin-born Edinburgh-based playwright and screenwriter. This is her 6th Play, Pie & a Pint production. Other productions include: Celestial Body (Play Pie Pint) The Last Dance (podcast; Tron); Darklands (NTS); Let's Inherit the Earth (Dogstar/Profilteatern); I Was Here (short film, SFTN/BFI) How to Disappear (Traverse); Dr Stirlingshire's Discovery (Lung Ha/Grid Iron); Walking On Walls (Play Pie Pint); The Strange Case of Jekyll & Hyde (Lung Ha); Ailie & The Alien (NT Connections); Un Petit Moliere (Lung Ha); The Artist Man and the Mother Woman (Traverse); Elf Analysis (Play Pie Pint); Distracted (Traverse)
ANDRÉ AGIUS is an Edinburgh-based Maltese Director & Theatre-Maker. He is the Artistic Director of the Edinburgh International Book Festival's 'Scotland Through Time' project, was Assistant Producer of the Royal Lyceum Theatre's Wonder Festival, and also Assistant Director on A Play, A Pie & A Pint's 'The Infernal Serpent' and 'The Words'. In Malta, he directed several mainstage productions, including The Hot-House (National Theatre) and Peer Gynt (National Philharmonic Orchestra). He holds an MFA in Directing (Edinburgh Napier University) under the mentorship of Mark Thomson and a BA (Hons) in Theatre Studies (Malta), while also training at Rose Bruford, Odin Teatret (Denmark) and Facing-the-Gap Workshops (Budapest). www.andreagius.com 
Please note this play ended on Sat, 17 September, 2022.