Autumn 2023 Season Announcement
Wed 12th July 2023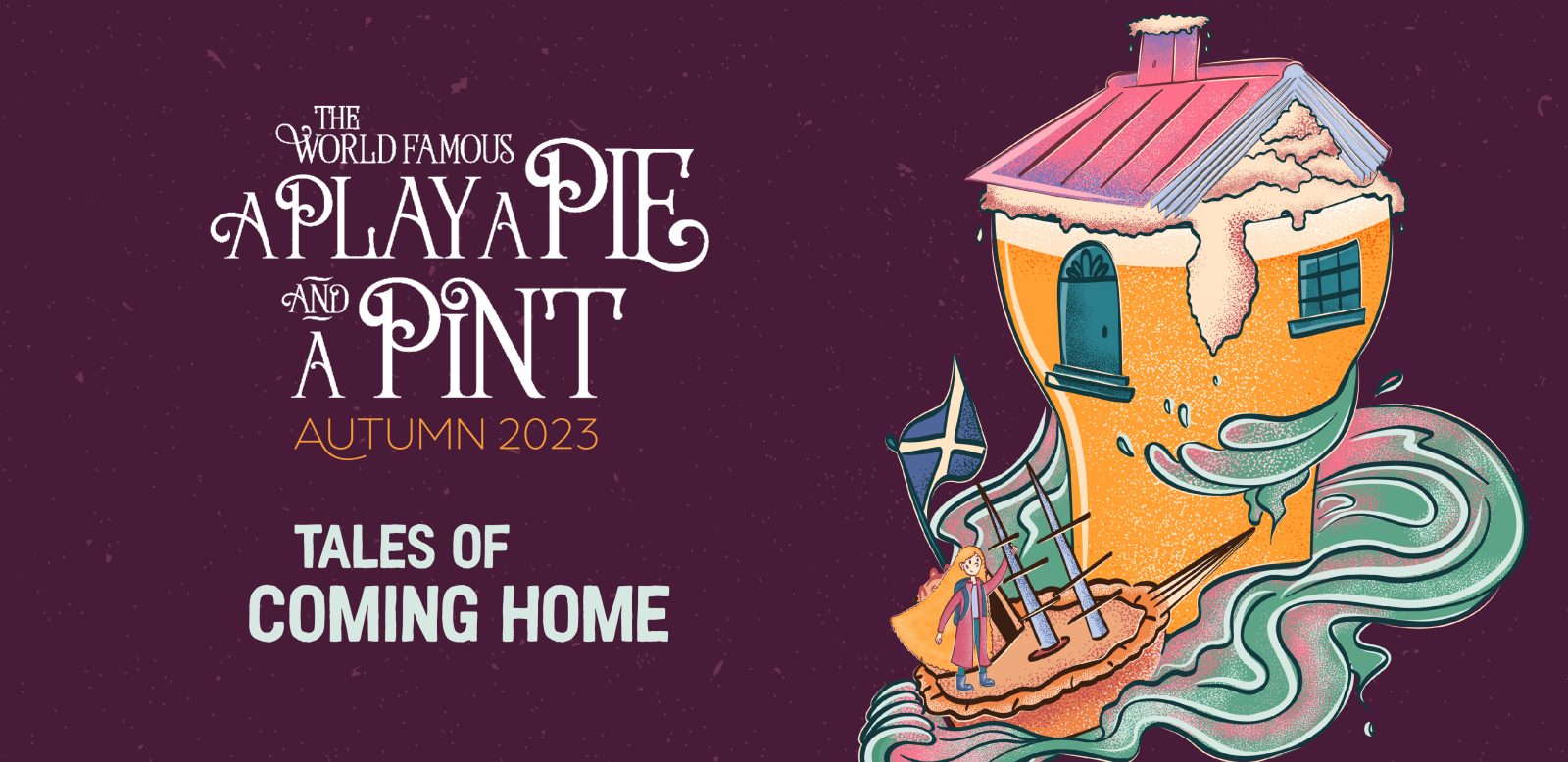 A Play, A Pie and A Pint (PPP) is delighted to announce its Autumn 2023 season featuring 12 exciting new plays themed around Tales of Coming Home, co-presented with Aberdeen Performing Arts, Ayr Gaiety, Pitlochry Festival Theatre and Traverse Theatre.
The season begins on Monday 4 September at Òran Mór, Glasgow with Forever Home, an uplifting new musical play by Pauline Lockhart and Alan Penman about an adopted girl finding her way home.
Acclaimed Scottish playwright Douglas Maxwell returns to PPP with The Sheriff of Kalamaki, a new comedy-drama directed by our Artistic Director Jemima Levick based upon a real man who made his home in Zante and polices troublesome Brits abroad. Other shows inspired by real people include Alice Clark's play Ship Rats, about her Glaswegian great-great-granny who sailed the world, and Brian James O'Sullivan's heart-warming Meetings with the Monk that features some funny holy men.

The extremities of home and identity feature prominently in both An Act of Union, a sung-through musical by Andy McGregor about the possible dangers of militant nationalism in Scotland, and in Meghan Tyler's FLEG, a new comedy directed by Dominic Hill, Artistic Director at Citizens Theatre, which sees a dark obsession take hold of a patriotic couple in Belfast.
Also this season, a brutal board game tears a family apart in Disfunction by Kate Bowen and the dangers of our home playthings are showcased too in Playthrough, a new spooky interactive play by Kenny Boyle about a cursed video game where the audience chooses what will happen.
Some exciting creatives will be making their PPP writing debut this season. Annie George's poignant Coast sees two half-siblings go on a journey of self-discovery, Peter Stewart showcases how grand narratives and identity meet their match in office politics in Castle Fallon, and Glasgow-based musical theatre duo Jonathan O'Neill and Isaac Savage will debut Stay, a new musical about love, grief and peculiar park-life.
Finishing the season in blazing glory, The Guns of Johnny Diablo by Philip Differ is a new farce where oversized egos try to record a radio version of a recently discovered spaghetti western to hilarious effect.
I am incredibly excited about our upcoming Autumn season. 'Home' can mean so many different things to everyone, from our ancestral home to the home that we make for ourselves, and I cannot wait for audiences to see some truly brilliant takes on this concept from the finest writers, directors and creatives in Scotland.

– Jemima Levick, Artistic Director at A Play, A Pie and A Pint
Tickets are on sale now for all performances at Òran Mór and can be booked online or through Box Office on 0141 357 6211 or in person.