Please note this play ended on Sun, 05 February, 2017.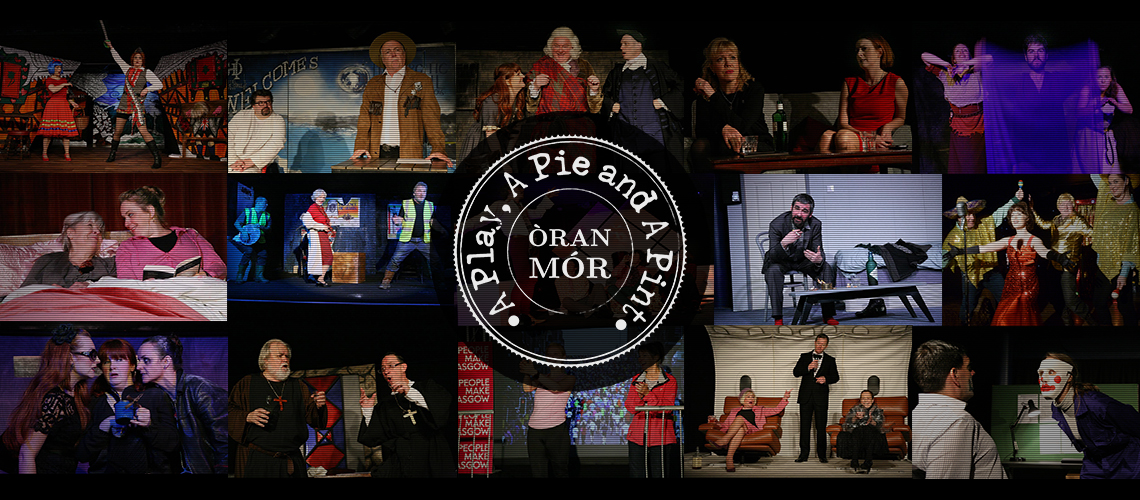 A Play, A Pie and A Pint will return with the Spring 2017 Season on Monday 6th February. Check out the WHAT'S ON page for more information…
We are delighted to bring you another exciting programme of plays from a fantastic line up of new and established writers.
This season our writers have explored such diverse subjects as Jocky Wilson – the world champion darts player, John Wilkes Booth – the actor who assassinated Abraham Lincoln, and Jabez Wolffe – the Glaswegian man who attempted to swim the channel 21 times! We delve into murder, dominatrices, the tragi-comedy of diminishing health, bad neighbours, love and loss during the war and an exiled King living in genteel poverty in Partick.
We kick off with 'Dusty Won't Play', a wonderful new piece dramatising Dusty Springfiled's visit to apartheid South Africa in 1964.
And watch out for another season of Mini Musicals in June!
We look forward to welcoming audiences old and new to Òran Mór, the friendliest pub theatre in the country. We value your tremendous support and hope we'll continue to engage you with the very best of new Scottish theatre.
CHECK OUT THE WHAT'S ON SECTION FOR MORE DETAILS ON THE PLAYS…
Spring 2017 Season
Feb 6th – 11th
DUSTY WON'T PLAY
By Annie Caulfield
Feb 13th – 18th
DIRT UNDER THE CARPET
By Rona Munro
Feb 20th – 25th
AN TANGO MU DHEIREADH AM PARTAIG /
LAST TANGO IN PARTICK
By Alison Lang
Feb 27th – Mar 4th
WORLD DOMINATION
By Lesley Hart
Mar 6th – 11th
THE BEACHES OF ST VALERY
By Stuart Hepburn
Mar 13th – 18th
GAP YEARS
By Gavin Smith
Mar 20th – 25th
JOCKY WILSON SAID
By Jane Livingstone and Jonathan Cairney
Mar 27th – Apr 1st
DING-DONG (A Bit of a Farce)
By Hilary Lyon
Apr 3rd – 8th
CHANNELING JABEZ
By Giles Croft
Apr 10th – 15th
HIS FINAL BOW
By Peter Arnott
Apr 17th – 22nd
VOICES IN HER EAR
By David Cosgrove
Apr 24th – 29th
SAFE PLACE
By Clara Glynn
May 1st – 6th
CONFESSIONAL
By David Weir
May 8th – 13th
BEG BORROW STEAL
By Anita Alexander Rae
(The David MacLennan Award winner)
May 15th – 20th
BUT THAT WAS THEN
By Peter McDougall
May 22nd – 27th
SMALL WORLD
By Sean Hardie
Please note this play ended on Sun, 05 February, 2017.